2 June 2016
This summer, Schirn Kunsthalle Frankfurt dives into the history of comic strips in mass media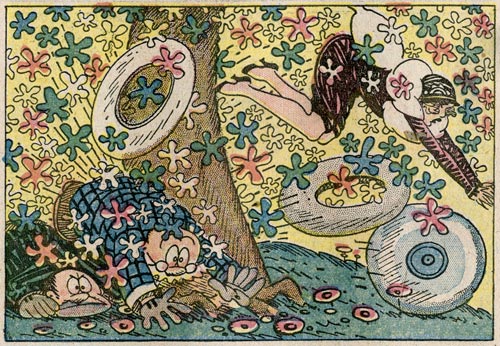 From 23 June until 18 September, Schirn Kunsthalle Frankfurt shows at the exhibition 'Pioneers Of The Comic Strip' how illustrated short stories became at the turn of the 19/20th century part of mass media in the United States. Comic strips were used for the exploration of themes like politics or as sort of reflector concerning everyday problems such as (image on this page) treated by Cliff Sterrett (1883–1964) who is the creator of the 'Polly and Her Pals' series about a couple and their daughter Polly; over the years, Sterrett focused more on the father's daily struggles.
fig.: Cliff Sterrett, Polly and Her Pals, detail, 13 November 1927, private collection.
Alongside to the content of these comic strips and the economic environment where they emerged, especially mentioned are the publishing house by Joseph Pulitzer and the publications by William Randolph Hearst, exhibition curator Dr. Alexander Braun throws a closer look at the visual artistic quality of these mass media products and presents therefore six illustrators with around 230 comic pages from 1905 until the 1940ies. The artists are Winsor McCay, Lyonel Feininger, Charles Forbell, Cliff Sterrett, George Herriman, and Frank King.
"All of the six artists presented in the Schirn explore the artistic possibilities of the young art genre and continue to influence it to this day." says Dr. Alexander Braun in the press release. (Find the link to the worth reading press release with closer information about the six artists on Schirn's announcement page of 'Pioneers Of The Comic Strip'.)


more culture>