18 October 2016
Preview Wiener Schmucktage (Vienna Jewelry Days) 2016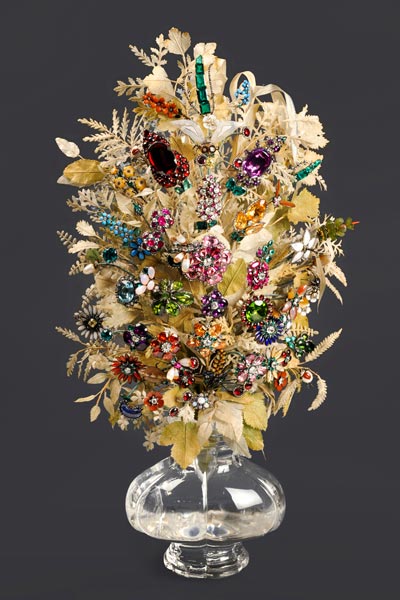 The gemstone bouquet from the 18th century (on view on this page) is from the collection of the Natural History Museum Vienna (Naturhistorisches Museum) which is one of the partners of the upcoming Vienna Jewelry Days (Wiener Schmucktage, 8 - 12 November). Together with the State Gem Institute, the museum is the place where precious stones are determined and researched in Austria.
fig.: Gemstone Bouquet, ca. 1764; from the collection of Naturhistorisches Museum Wien; 2.102 brillants, 761 colored precious and decoration stones; vase of rock crystal, silk leaves; Inv.Nr. A.a.2334. Photo: © Naturhistorisches Museum Wien / Alice Schuhmacher.
From 8 to 12 November, jewelers, curators and culture institutions will provide insights into the art and science of jewelry from former culture periods like baroque (special tour at the Natural History Museum Vienna) to contemporary design such as at the presentation of Labvert with photographs by Michael Dürr.
The annual Jewelry Night (Schmucknacht) is scheduled this year on 9 November. At Schmucknacht, Viennese jewelry art can be explored during the evening (beginning at 16.00) and night hours (until 22.00).
The programme of the Jewelry Days for the 28 venues is extensive and reaches from workshops (inclusively workshops especially for children), lectures, breakfast invitations (on 12 November, mainly at the studios of the artists) to guided tours such as the one announced via the embedded post below, 'Der Schmuck der Kaiser' (Jewelry of Emperors) at the art museum Kunsthistorisches Museum Wien.




more culture>