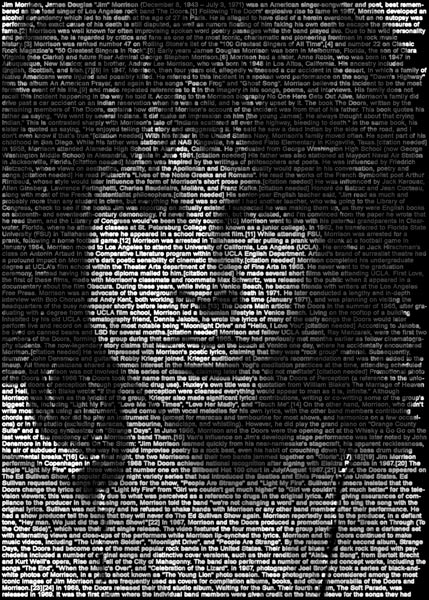 28 January 2016

Special exhibition 'Don't Stop the Music' with web driven portraits by Ralph Ueltzhoeffer at Lumas Vienna
From 26 February until 24 March, the international photo gallery chain Lumas will exhibit artworks under the title 'Don't Stop the Music' at Wollzeile 1-3 in Vienna. One of the most interesting works is the series by German conceptual artist Ralph Ueltzhoeffer whose photo selection is influenced by the online-popularity of images and the written information published at sources like Wikipedia or blogs. Ueltzhoeffer visualizes this way that the creation of an 'image' or an 'icon' depends on accompanied 'text' which is transmitted mainly through mass media. On Lumas.com, the pop-culture stars of Ralph Ueltzhoeffer's series are described as people who "...are no 'clean slates'; they have exceptional talents, wild careers, and are major successes. And for many millions of people they are exciting, a role model, hope."
fig.: Text portrait 'Jim Morrison' by Ralph Ueltzhoeffer. © Ralph Ueltzhoeffer, www.lumas.com.
The image is originally a detail of a photo from the late 1960ies, taken by photographer Joel Brodsky in the so-called 'Young Lion' photo shooting. In a video interview, Joel Brodsky talks about his work as album cover photographer with background information about the making of this famous Jim Morrison image.


more culture>