12 May 2016

Forum Frohner exhibits critical art for Austria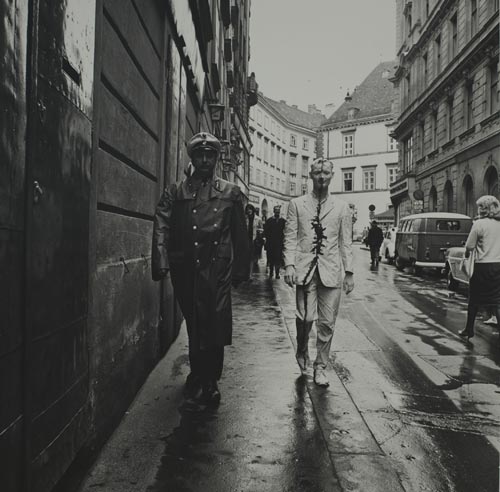 One day before the Austrians vote for the country's new president, the exhibition 'Red I Know Red. Critical Art for Austria' opens on 21 May at Forum Frohner in Krems in Lower Austria. From 22 May to 6 November, the curators Christian Bauer and Elisabeth Voggeneder's explorations over a half century political activism and art in Austria will be on view with around 50 artefacts by 36 artists - from paintings, photographs to objects like a button with party political message. The country and its political power structures have continuously changed during times - as its usual in democracies worldwide; probably these changes were mastered even with the support of artists and media which benefit in Austria from (the practiced basic human rights of) freedom of speech, opinion and communication. Media (today inclusively digital communication) and art are two fields which enjoy as important pillars of society special protection.
fig.: 'Wiener Spaziergang' by Guenter Brus, 1965. Black/white photography of a 16-parts series, 39 x 39 cm. © MUSA. Photo: Andreas Gießwein. The 'Wiener Spaziergang' (Vienna Walk) will also be screened as short film.
The curators' source and name giver for the exhibition was the book 'Rot ich weiß Rot' (Red I Know Red) about the ability of Austrian artists to critcise the own country. The book with texts by intellectuals like Thomas Bernhard, Helmut Qualtinger, Elfriede Jelinek, etc. was an answer to the diagnosis of Frankfurter Allgemeine Zeitung that in Austria reigns a 'political calm'.

Note by Fashionoffice: Ten days before the election, Austria makes the impression of a democratical healthy country with freely expressed, different opinions.