3 November 2016

Vienna Art Week (14 - 20 Nov) explores under the title 'Seeking Beauty' the definition of beauty in art, design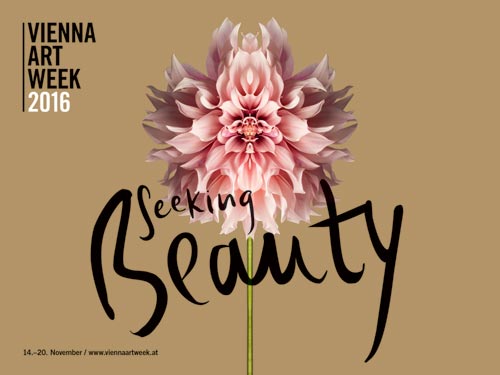 The 'Vienna Art Week' program for the more than 200 events on various locations through the city is published under categories like exhibitions, openings, performances, talks or guided tours on viennaartweek.at (in English and German). This year, the organizers and curators throw light on the definition of beauty in art, media, design and invited guests like Austrian philosopher Konrad Paul Liessmann (University of Vienna) who will discuss with museum director Albrecht Schröder (Albertina) and culture journalist Kia Vahland (daily news publication 'Süddeutsche') beauty in art and the influence of standards communicated through media or advertising ('Talk' event 'Too Beautiful To Be True?' on 17 Nov). The VAW-program reaches from philosophical discussions over art exhibitions, performances to visits in design studios where products of the strongly with standards of 'beauty' associated lifestyle industry are created. Under the category 'Guided Tours', the ones who are interested in the design of consumer goods will find for example the event tip 'Departure Tour - Architecture, Footwear, and Fashion'. The tour happens on 19 November and leads to the architecture studio AllesWirdGut, the shoe workshop Von Morgen and the fashion studio Femme Maison.
Vienna Art Week Artistic Director Robert Punkenhofer says in the press release about this year's theme 'Seeking Beauty': "Beauty is more than a question of taste; it is constantly changing and evolves in a dialogue. We are interested in the criteria that define beauty and in the links between the concept of beauty and social developments."
fig.: Sujet 'Vienna Art Week 2016'; (C) Perndl + Co.


more culture>