18 November 2016

Simon Costin's window installation for Swarovski in Vienna is contributed to fortune tellers, in Innsbruck to...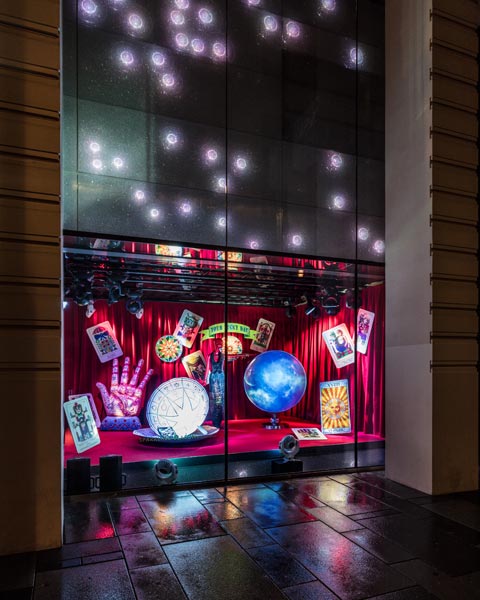 Since early November, the store window installations 'Sparkling Season' by British art director, set designer, and director of the Museum of British Folklore Simon Costin are on view at the three Austrian stores of Swarovski Kristallwelten in Vienna, Innsbruck and Wattens.
Each of the windows stages another topic of 'Sparkling Season' with focus on X-Mas and New Year. In Vienna (image right), the window 'Your Lucky Day' is contributed to the outlook to future; the window shows fortune teller symbols like crystal ball, tarot cards or hand lines.
In Innsbruck (capital city of Tyrol), the 'Your Present' installation (image below right) consists of colorful gift packages. In Wattens where Swarovski Kristallwelten is headquartered, 'Celebration' is expressed with fireworks and party scenery (image below left with Simon Costin standing before the window installation).
The decoration pieces with Swarovski crystal embellishments originate from Bergdorf Goodman in New York where they were already used for the anniversary windows of the department store at Fifth Avenue.
Photos: Swarovski Kristallwelten.