8 November 2016

Artist Stephanie Klaura's performative textile installation about privacy in digital era received Bank Austria Award
The annual award 'Bank Austria Kunstpreis Kärnten 2016' was handed out already in June. Now, the selected works of the winners Stephanie Klaura, Georg Pinteritsch and Nataša Sienčnik of this year's theme 'Hokus Pokus' are on view from 10 November until 3 December at Galerie Freihausgasse in Villach, Carinthia.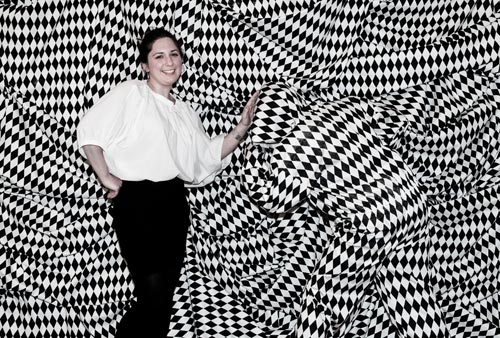 Stephanie Klaura received the main prize for her textile installation with performance elements. The black and white textile on the wall can be interactively joined by visitors in hoodie-overalls made of the same textile for the experience of a camouflage effect that references anonymity in our digital world.
Lisa Ortner-Kreil, Curator of Bank Austria Kunstforum Wien, points out that the participatory aspects of the installation and the idea of freedom through protecting persons' privacy convinced the jury.
The exhibition at Galerie Freihausgasse (Villach, Carinthia) will open tomorrow. Overalls can be lend out at the gallery for posing in anonymous mannequin style.
From 19 January until 26 March 2017, Stephanie Klaura's textile installation will be part of the group exhibition 'collected #6: White Cube - Black Box' at tresor at Bank Austria Kunstforum in Vienna.
fig.: The image shows artist Stephanie Klaura in front of the black and white textile installation 'hocus pocus - dazzle - GO!' made of a pattern which reminds the costume of a joker or clown. The installation won the 15th Bank Austria Kunstpreis Kärnten. The vibrating pattern 'anonymizes' another person which stands beside her. The almost invisible person wears a hoodie-overall made of the same textile. Stephanie Klaura was born in Salzburg, studied at the University of Applied Arts and lives in Vienna. She works on canvas, develops installations, creates pattern designs for rapport textiles as well as art for architectural elements such as glass areas for the school for economy and fashion (WiMo Schule für Wirtschaft und Mode) in Klagenfurt. Photo: © Ferdinand Neumüller.