6 May 2016

The science behind the art of jewelry presented by Van Cleef & Arpels at ArtScience Museum Singapore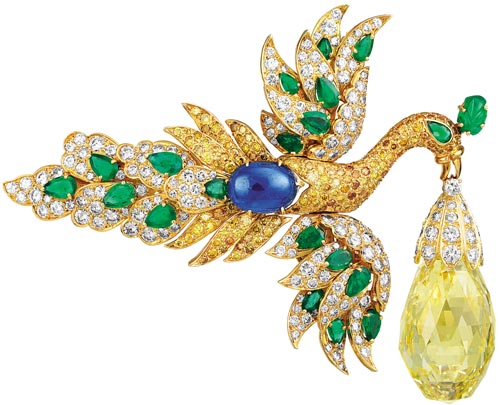 ...in participation with the French National Museum of Natural History at the exhibition 'Van Cleef & Arpels: The Art and Science of Gems' (on show until 14 August 2016).
The introduction video 'Big Bang' on the museum's website (and embedded below) gives a first glimpse of the exhibition's geological tour beginning with the Big Bang which created the stars 13,800 million years ago, the birth of the sun (4,567 million years ago), earth (4,540 million years) up to haute jewelry made from stones which carry the geological history of our planet such as the flying bird clip with yellow diamond pendant on view on this page."
"This cycle is ongoing: gems keep crystallising. It is happening right now in the vaults of the Earth but it requires millions of years to be observed." explains Van Cleef & Arpels the continous process of the 'metamorphism' of earth materials into crystals.
fig.: Bird clip and pendant, 1971-1972, gold, emeralds, sapphire, yellow and white diamonds and a 96.62-carat briolette-cut yellow diamond formerly owned by the famous Polish opera singer Ganna Walska. Van Cleef & Arpels Collection. Photo: Patrick Gries © Van Cleef & Arpels.
In the 1930s, the yellow diamond pendant was worn by opera singer and socialite Ganna Walska. It appeared in 1971 in an auction at Sotheby's. The new owner asked Van Cleef & Arpels to combine the stone with a magical bird in celebration of the birth of her son in 1972. Van Cleef & Arpels' is known for transformability of jewelry pieces; the bird can also metamorphose into a pair of winged earrings and a brooch, while the yellow diamond can be detached from the clip and worn alone as a pendant.
The collaboration between the ArtScience Museum Singapore and L'École Van Cleef & Arpels started already last year. The exhibition in participation of the French National Museum of Natural History shows how the Earth's geological transformations like pressures caused by plate tectonics in mountain regions such as the Himalaya are responsible for gems like jade. Geological events (pressure, temperature, water, etc.) have effects on size, color, transparency and other properties of gems. On display is a wide range of artefacts - from the oldest meteorites and diamonds, to more recent opals, emeralds and quartz – including the largest (800 kilograms) quartz crystal ever found in the Alps.