5 June 2016

Vienna Insight: Firlefanz design and flea market at Aux Gazelles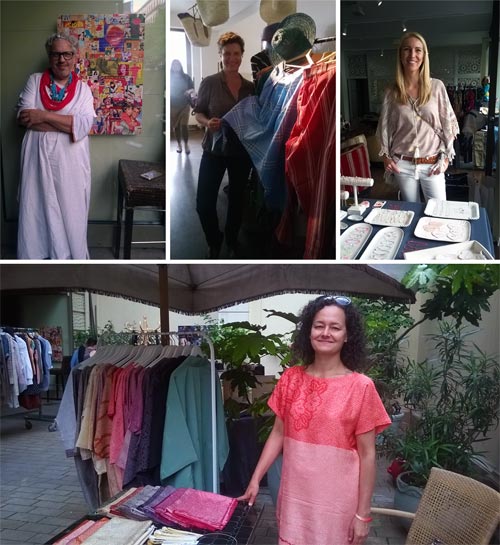 Yesterday, the Firlefanz design and flea market happened in front and inside the restaurant, bar Aux Gazelles in Vienna. Fashionoffice published an announcement recently and visited the event yesterday for capturing some images from the booths.
fig. clockwise: Mario Soldo is known in Austria's fashion scene as presenter with entertaining qualities on catwalks, initiator of legendary fashion fair/event series like IMOTA, and as talent scout for the fashion and entertainment business via his co-owned Mother Agency. At Firlefanz, Mario Soldo posed in front of one of his comic collages he sold on that day. The one on view at the image is made of comics he read in his youth.
Firlefanz happened in front and inside of the spacious location of Aux Gazelles which offers even a Hamam. Owner of the oriental restaurant, bar is Christine Ruckendorfer (image in the middle) who presented on this day a collection of new pieces (fashion, interior, beauty) she has brought from her travels to Morocco. At the image, Christine Ruckendorfer stands in front of the fashion rack with traditional Moroccan items like caftans and trousers; last mentioned look like a mixture of a wide skirt and trousers - they are called 'Sirwal' or in French 'Sarouel' pants, they are even cicrculating online under the name (men's) Harem pants.
The third image shows the Viennese Antonia Chadim who is the owner of 'Pretty Delicate' - a jewelry brand which is headquartered in Munich and sells very light bracelets, rings and ankle chains via the website pretty-delicate.com. Antonia Chadim started several years ago in 2009 and used the knowledge of her grandmother who owned a goldsmith workshop in Vienna. The Pretty Delicate online store carries alongside to jewelry also fashion and accessories for summer, beach and pool.
The last image on this page shows silk-recycler Barbara Lindner, founder of the Austrian label 'Alila'. The silk fabrics of the light summer dresses are recycled from kimonos she receives from partners directly from Japan. Yesterday, Alila designer Barbara Lindner presented also some of the original vintage kimonos which reach from daywear like a green kimono with floral patterned lining to nightwear such as a black semi-transparent piece.


more culture>