4 November 2016

Vienna Insight: 'Los Austriacos' by Tiberius designer Marcos Valenzuela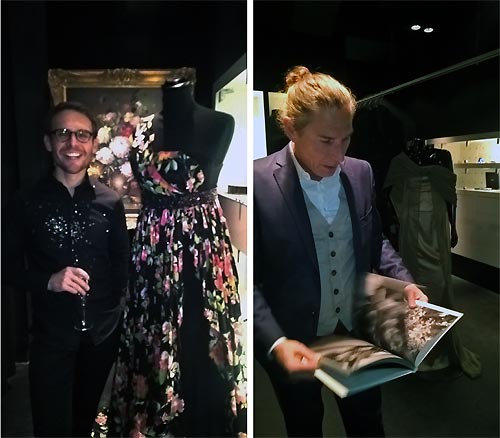 Yesterday, Tiberius designer Marcos Valenzuela (image lefti) and founder Karl Ammerer (picture right) invited guests to the presentation of the label's tailor-made evening wear and jewelry by Ciro at the Tiberius concept store at Lindengasse 2 in Vienna. With the new evening dresses, Marcos Valenzuela pays homage to Austrian culture and lifestyle under the title 'Los Austriacos'. The Columbian (Bogota) born and in Vienna living designer explained that he is inspired for his creations by the hedonistic lifestyle of iconic personalities like Austrian Empress Sissi who was once a global superstar. At a certain level, global and national culture merge in the meaning as the understanding for good taste (culinary), visual esthetics (art, design) and a society's values (expressed by manners, behaviour) exists. On Tiberius' Facebook page, impressions of Marcos Valenzuela's #LosAustriacos are published not only with fashion images but also pictures which show snowsport or culinary.
fig. left: Tiberius designer Marcos Valenzuela stands beside an evening gown made of pleated semi-opaque fine cotton with flower print and embellished with inconspicuous silver frills which let arise a sort of glow around the swinging skirt part and the asymmetrical drapery of the shoulder-free top. The floral cotton mousseline is worked on a black stretch-dress and decorated with a hand-embroidered silver-jewelry belt.
fig. right: Karl Ammerer is the founder of the brand and store Tiberius. He spoke with Fashionoffice about activities of the label around the fashion collections and the concept store's range which includes perfumes as well as jewelry. At the image, Karl Ammerer browses through the book '86400 tiberius seconds' which was published in 2007 and captured the lifestyle of the brand 15 years after its founding in 1992. On occasion of next year's 25th anniversary, Karl Ammerer plans to cross media with a print-digital publication where both carriers - paper and bits & bytes, complete each other for uniqueness - fitting to the hand-crafted and mainly unique creations of Tiberius. The anniversary publication will also chronicle culture history of Vienna; currently scheduled release date is autumn 2017.


more culture>