26 March 2017

Art Paris Art Fair 2017 invited Africa as Guest of Honour and will provide insights into the continent's cultural life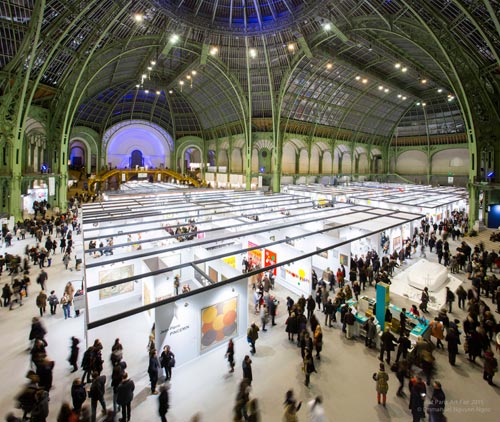 From 30 March to 2 April at Grand Palais, Art Paris Art Fair 2017 will present artworks by around 1,550 artists collected by 139 galleries from 29 countries. Africa is this year's Guest of Honour and will be represented by galleries from Angola, Nigeria, Senegal, Tunisia, Morocco, South Africa,... and European countries. Around 100 artists will provide "a previously-unseen perspective of contemporary African artistic horizons" such as stated at the website artparis.com where selected artworks (by gallery) can be previewed like the textile work by Emo de Medeiros entitled 'Tribulation' which shows a chain reaction of suffering, the stylish silk tapestry 'Every Woman' by Billie Zangewa who uses various textile techniques for the depiction of strong African women, or the 'Velvet' mixed media (textile, paper, photography) portrait by Marion Boehm who pays with her work tribute to the positive energy of African women and the African tradition of working with recycled material.

On occasion of the art fair's special focus, Art Paris recommends additional exhibition tours at Parisian museums and institutions where African art is currently on view (details at the Art Paris website).
fig.: View at Grand Palais where Art Paris Art Fair 2017 will happen from 30 March to 2 April. The image shows an ambience picture of last year's Art Fair 2016, photo (C) Emmanuel Nguyen Ngoc.
ART PARIS ART FAIR 2017 from France Conventions on Vimeo.
more culture>