24 May 2017

Havaianas by Simone Rocha, Manolo Blahnik, Swarovski, Arizona Muse, Naomi Campbell for 'Women for Women'
From 1 July at the fund raising platform Givergy, Havaianas flip flops in artistic interpretations by British/Irish designer Simone Rocha (image), the Spanish brand of exclusive shoes Manolo Blahnik, or the Austrian crystal and jewelry brand Swarovski will be auctioned for collecting money for the Havaianas charity 'Women for Women International' which supports women who have survived war and are rebuilding their lives. The art initiative by the Brazilian brand Havaianas was curated by fashion project specialist Maria Kastani who collected works by international designers and labels as well as celebrities like Arizona Muse or Naomi Campbell.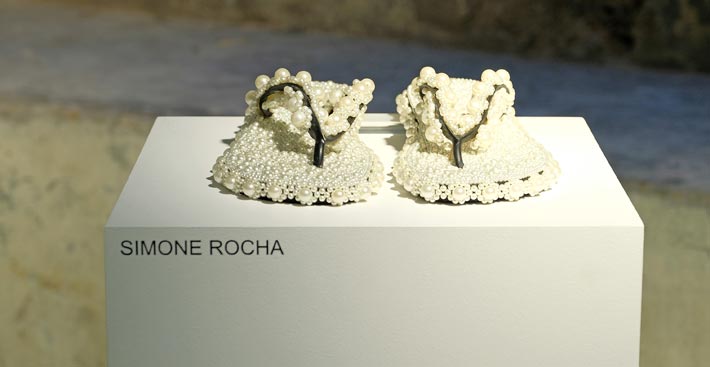 fig. above: The Havaianas by London-based British/Irish designer Simone Rocha are embellished with pearls. Simone Rocha won awards like the 'British Womenswear Designer Award 2016' or the '2016 Harper's Bazaar Designer of Year Award'. In February this year, the designer opened her second store in Soho, New York (article on Vogue); her first store is located in London. Simone Rocha's Havaianas appear like footwear of a mermaid who has just stepped out from the waves, carrying the treasures of the sea on her feet.
The 'Havaianas Art Auction' curated by Maria Kastani in aid of 'Women for Women International' was presented at the Alex Eagle Studio on 16 May 2017 in London, England. Photo: (C) 2015 Dave Benett.
The Facebook post embedded below shows further images of the Havaianas X Women for Women International art collection: