26 October 2017

Diesel 'Go With The Flaw' party with influencers from music, sports and fashion in Vienna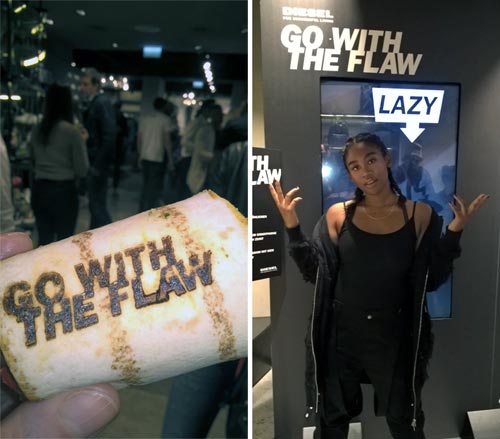 This week on 24 October, Diesel invited to the 'Go With The Flaw' party at the brand's store at Mariahilfer Strasse 89 in Vienna. 'Go With The Flaw' is the name of this season's campaign which was released recently with a video (more than 10 million views in around one month) with the message that perfection is boring and that flaws make people unique. The question above is who dictates what's a flaw? The concept of the campaign was continued inside the store with an interactive 'Go With The Flaw' touch screen for selecting flaws. Musician Rose May Alaba (picture right) posed in front of 'lazy'. Some weeks ago, she released her latest single 'Take Your Time' (dance video). Rose May Alaba told Fashionoffice that she is currently working on her album; the release is scheduled for the end of next year.
Picture below, from right: Hannes Knödl of simplycatering.at branded the meat-vegetable crÍpes with the motto of the party. Among the guests, influencer Jean Claude Mpassy of the men's fashion and street style publication 'New Kiss on the Blog'. Jean Claude Mpassy appears as one of the campaign's protagonists at the Vangardist special 'Go With The Flaw' edition which was presented at the party.
Photo below, left: Singer, songwriter and former professional ice hockey player Virginia Ernst and musician Rose May Alaba. Austrian chart breaker Virginia Ernst married in summer this year and is currently working on new songs; the first track will be released in spring 2018.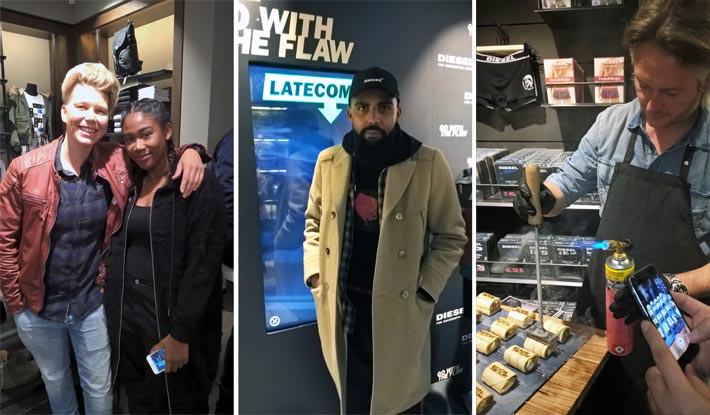 Photo below, from left: The host of the party Tomas Veres Ruzicka, Diesel PR & Communications Austria / Slovenia, and Austrian snowboarder, Olympic Gold medalist Julia Dujmovits who is currently preparing for the next 2018 Winter Olympic Games happening in February in Pyeongchang, South Korea. Yoga belongs to Julia Dujmovits' training. Recently, the athlete has started a collaboration with the multichannel network ProSiebenSat.1 PULS 4 Gruppe for the series 'Yoga mit Julia' on TV (sixx Austria) and YouTube.
The two images right show art-music performer I am Echoes (aka Manfred Hofer) during the ambient-electronic live session with guitar and computer.