20 April 2017

Digitally produced flower bouquets by René Twigge presented at the photo art gallery Lumas Vienna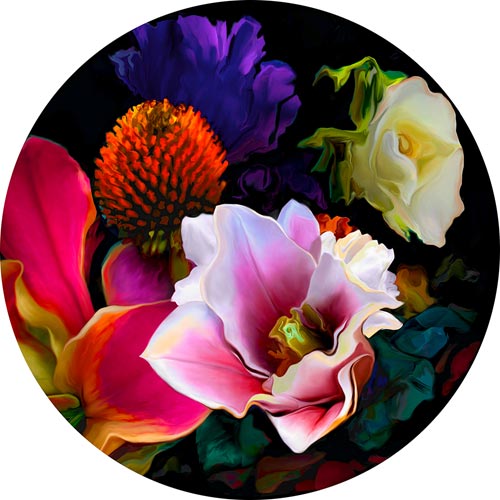 The Viennese gallery of the international photo art gallery network Lumas presents on occasion of Mother's Day (14 May in Austria) digitally per camera and computer produced and on photo paper in limited edition printed flower bouquets such as the 'Botanical Circular'-series by Australia-based René Twigge (image right). The art works show flowers which were first captured with the camera and later arranged and reworked at the computer. Twigge references with her work the symbiosis of the environment and technology. The alternative Mother's Day long-lasting (sustainable) flowers are available in the case of René Twigge in the sizes 80 x 80 cm or 120 x 120 cm. Lumas offers two different versions how to prepare them; one of them is after the artist's tip as image mounted under acrylic glass which applies the appeal of a flat glass vase.
fig.: Digitally reworked photos of florals as flower bouquet 'bloom v7.5' by René Twigge; limited edition of 150, signed. © Rene Twigge, www.lumas.com.
Isabelle Menin is another artist whose work such as 'I'll be your summer' is mentioned by Lumas as tip for Mother's Day. The artist incorporates classical compositions practiced in the 15th/16th century by Flemish Masters like Peter Paul Rubens or Jan Van Eyck into her digital arrangements of photographed blossoms and scanned nature fragments.


more culture>