1 September 2017

Artist Ineke Hans created the 'Kunsthalle Wien Chair' inspired by the Adolf Loos/Thonet coffee house chair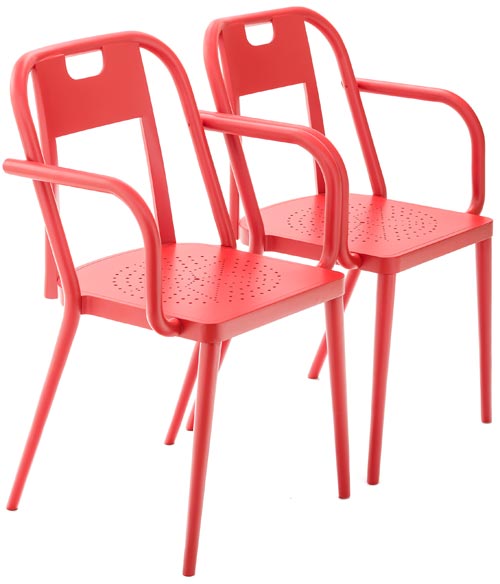 From 28 September until 12 November, Dutch in London based artist Ineke Hans' work reflecting upon signature Viennese architecture, functional design and global digitalization will be on view at the exhibition 'Was ist Loos?' at Kunsthalle Wien.
The chair on this page is the special 'Kunsthalle Wien Chair' by Ineke Hans who was inspired by the Austrian architect Adolf Loos and his chair produced by Gebrüder Thonet Vienna for Café Museum in 1898. The artist reflects with her art-design upon historical movements in architecture, design at the turn of the 19th/20th century which are known under period titles like Jugendstil or Art Deco, and today's challenges like the protection of the environment and digitalization. The exhibition concept - the historical tribute to Adolf Loos and today's circumstances for designing, manufacturing, and distributing, is carried with a double meaning (in German) in the title 'Was ist Loos?'. Primarily, 'Was ist Loos?' means 'What is Loos?' which isn't really correct as Loos is a human being and the title should be 'Who is Loos?'; but without the grammatical mistake, the double meaning wouldn't exist - even when a misspelling is therefore necessary. 'Was ist Loos?' can sound in German even like 'What happens?'.
Adolf Loos was a very practical and holistically thinking architect and designer. Ineke Hans revives the ideas of a generation living over hundred years ago in Vienna and producing here ground-breaking ideas for a new society, of a new living together which is manifested by architecture and everday objects. In our times, designers think even about the architecture of digital networks.
The second item which is especially produced by Ineke Hans for the exhibition is the 'Instant Desk'. It's designed for cooperating local productions (keywords: reducing the carbon footprint) which receive the design, building plans via Opendesk where the furniture will also be available.
fig. above right: 'Kunsthalle Wien Chair' by Ineke Hans, 2017. Courtesy Gebrüder Thonet Vienna.
Below: 'Instant Desk' by Ineke Hans, 2017. Courtesy Opendesk.
Photos: Jorit Aust.