17 October 2017

Vienna Insight: Life and lifestyle of Helena Rubinstein exhibited by Jewish Museum at Museum Judenplatz
Today, Jewish Museum Vienna invited to the press preview of 'Helena Rubinstein. Pioneer of Beauty' to Museum Judenplatz at Judenplatz 8 where around 300 artefacts from powder cases, mascara over furniture, media documents like adverts, articles to packaging like flacons and the pioneer's clothing style - from Dior, Chanel to Yves Saint Laurent, are on view from tomorrow 18 October 2017 until next year (6 May 2018).
The pastel colors of the three-rooms exhibition are inspired by one of the wrapping paper designs by Fritz von Berzeviczy-Pallavicini from the mid-1950ies (on view at the image below). The show starts with the beginning of Rubinstein's career after she had left Krakow (Poland) and moved to Vienna (Austria). Not everything about her life is documented but her time in Vienna is represented with several items like studio portraits. Even when Helena Rubinstein lived most of her time in London, Paris and New York, Vienna and Eastern Europe played important roles in her life.
The first room shows legendary products in original packagings such as Helena Rubinstein's 'Waterproof Mascara' after the formula of Vienna-based Helene Winterstein-Kambersky, photos of the marketing and distribution talent Rubinstein with her two husbands - Polish journalist Edward William Titus and Gregorian Prince Artchil Gourielli-Tchkonia, as well as adverts and media documents such as the film magazine cover from 1928 with Jospehine Baker whose makeup for the 'Revue Nègre' was created by Helena Rubinstein. Unfortunately the 'Créme Gypsy' for darker skin is only mentioned at the exhibition. Original examples of the 1920s product range of makeup for various skin colors and ethnicities got lost during the years.
In one of the rooms, the visitor feels like just behind the stage at the makeup room! It's the place where film interviews with Helena Rubinstein are shown. The beauty salon chairs become cinema seatings!
The third room houses artefacts like Andy Warhol's portrait of the beauty pioneer, articles about the rivalry between Elizabeth Arden and Helena Rubinstein, wrapping paper designs by Fritz von Berzeviczy-Pallavicini or a niche dedicated to Rubinstein's fashion style documented with portraits showing her in dresses by Coco Chanel or Yves Saint Laurent.
fig. above: At the first room of the exhibition 'Helena Rubinstein. Pioneer of Beauty' (18 October 2017 - 6 May 2018) at Museum Judenplatz in Vienna, a strong focus is set on the beginning of the career and her private life with pieces such as Jean-Michel Frank's coffee table (picture above) with parchment leather covering which was once part of the interior of Rubinstein's apartments in Paris and New York. The table on view is from the 'Rééditions J-M. Frank' collection by Hermés.
fig. below: Exhibition view, third room: Art works for the brand Helena Rubinstein like wrapping papers and packaging such as perfume bottles or jewelry equipped with beauty fillings.
Photos captured on 17 October 2017.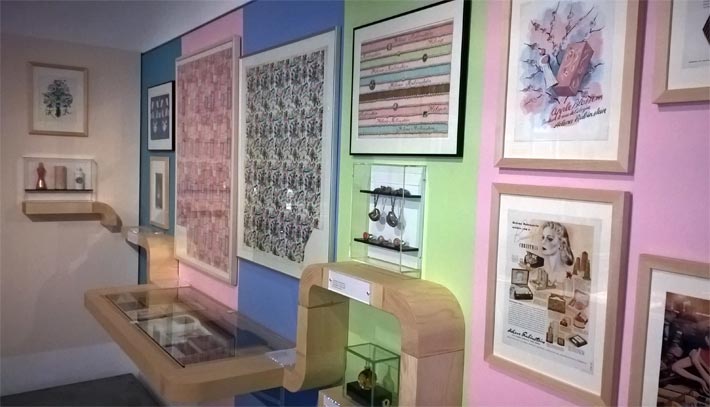 more culture>