5 April 2017

Vienna Insight: Trude Forsher's life memories exhibited at Jewish Museum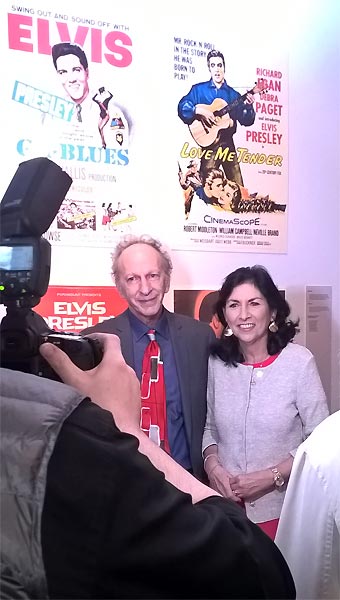 Yesterday, the Jewish Museum Vienna (JMV) exhibition 'Trude and Elvis. Wien - Memphis - Hollywood' was presented by the son of Trude Forsher, James Forsher, JMV Director Danielle Spera and curator Marcus Patka in front of media. James Forsher contributed anecdotes from the life of his mother in Los Angeles such as his remembrance of the Saturday afternoon jour fix of taking coffee at a coffee house - just as Trude Forsher did as long as she lived in Vienna before she had to leave the country in 1938; at first, she moved to UK, London, in a second step to US, New York. At the accompanying catalogue (published by Marcus Patka), the unwanted migration from Austria - caused by the Nazi-regime which made the escape necessary, Trude Forsher's life is documented with images of her dressed in a swimsuit at the beach of a lake in Carinthia, the Wörthersee (picture from ca. 1935), or wearing a tailored costume with chic hat in front of an orangery at a public garden in Vienna (picture from 1937). The documentary makes aware how fast everything happened then. 1938 was the year which changed the situation of many Austrians; many of them who started their escape, lived in Vienna.
The circular arrangement of the memorabilia at the one-room exhibition can be described as turbulous spiral through time where Elvis Presley throws the brightest starshine in Trude Forsher's life. Trude Forsher worked as secretary of the musician and had during her time in Hollywood many contacts with famous stars of the music and film scene.
fig.: Photoshooting with James Forsher (son of Trude Forsher) and Danielle Spera (director of the Jewish Museum Vienna) at the press prievew of the exhibition 'Trude and Elvis. Wien - Memphis - Hollywood' on 4 April 2017. The exhibition is on view until 12 November.
Accompanying to the exhibition, filmmaker Kurt Langbein produced the documentary 'Elvis and the Girl from Vienna' which will be broadcasted soon on Austrian TV.

The video below shows Jewish Museum Vienna Director Dr. Danielle Spera and 'Trude & Elvis' exhibition curator Dr. Marcus Patka introducing into the life of Trude Forsher.