28 April 2017

Nina Mair's museum furniture design for Ferdinandeum is inspired by the Tyrolean culture of relax benches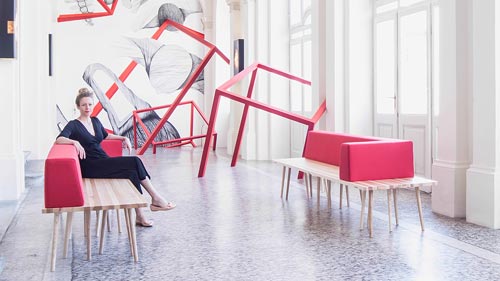 'Relax' is a signature term for the description of the designs by Austrian architect Nina Mair.
Mair's 'Relax' bar table with integrated mobile device charging feature received the German Design Award 2017 for it's "inviting appearance". Now, Ferdinandeum in Innsbruck (capital city of the Austrian state Tyrol) presented the museum's new furniture designed by Nina Mair after the inspiration of the Tyrolean tradition of relax benches which are standing in front of many houses in the alpine landscape. The so called 'Vorbank' (means as much as 'front-bench') matches visually the architecture of the house and is used by the inhabitants and their friends for contemplation and socializing. At Ferdinandeum, the benches are designed to suit the museum spaces such as at the historical hall (image above) or the exhibition rooms (picture below) where works by Rembrandt, Brueghel, Oskar Kokoschka, Egon Schiele, Alfons Walde, Albin Egger-Lienz or contemporary artists are on view.
fig. above: The image shows Innsbruck-based Austrian architect Nina Mair sitting on a bench which fits the space with the installation by artist Anemona Crisan at the historical hall at Ferdinandeum in Innsbruck. It's one of in sum 23 differently sized benches; the amount of seat places changes with the sizes. Nina Mair's color designs are adjusted to the surrounding - on view exemplary at the image below: The bench in front of the paintings 'Mütter' (transl. 'Mothers', picture left) and 'Christi Auferstehung' (English 'Resurrection of Christ') by Albin Egger-Lienz harmonizes with the room (located at the 2nd upper floor). Photos: (C) Peter Philipp, pphilipp.com.
For the material, Nina Mair selected region-typical ash-tree wood and wool fabrics - such as used by Tyrolean artisans. The Ferdinandeum benches are manufactured at Tischlerei Forcher where traditional crafts are combined with new techniques. The woolen elements of the 23 benches appear in six color notes of red, blue, green and grey.