written on 12 August, published on 5 September 2017

Pandora portrays for Autumn 17 campaign women from all over the world: artists, shop owners,...
From 31 August, jewelry label Pandora will present the new Autumn 2017 collection with portrays of women from all over the world. Pandora sent a preview of the 'DO See The Wonderful'-campaign which shows women in fulfilling moments that make them happy. The campaign concept bases on a research on the impact of images on the feelings of women. For the interviews with more than 7.000 women from Europe, North America, South America, Asia and Australia, the label teamed up with Survey Sampling International (SSI) in June this year. One of the results shows that 80% of women are inspired by photographs which celebrate life's everyday triumphs like painting a wall, arranging the store interior, cooking with a friend or reading a book together with a child. Natural photographs showing women's day-to-day achievements inspire more than static posed selfies.

For the campaign, Pandora collaborated with the photographers Liz Sunshine, Meredith Jenks and Sandra Semburg - last mentioned captured women in Berlin and London (images below from left) such as German artist Lena Petersen and British shop owner Ella Jones in 'DO Moments'. Melbourne-based documentary photographer Liz Sunshine met women in Sydney and Hong Kong; Brooklyn-based Meredith Jenks took photos in New York and Sao Paulo.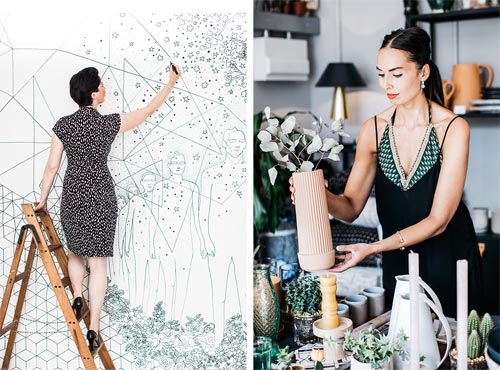 Berlin-Paris based Sandra Semburg traveled for the project between Berlin and London.

In Berlin, the photographer portrayed artist, illustrator, designer Lena Petersen while producing a wall painting. Lena Peterson states about the moment: "I dream big and do big. The moment when I am painting is like a meditation. I feel like I am between the earth and the universe and the painting has a life on its own. I love to inspire and create."
In London, Sandra Semburg met tribal shop 'A New Tribe' owner Ella Jones and pictured her 'DO Moment'. Ella Jones says about the moment while arranging plants in her store: "I love arranging new products in the shop - I can spend hours moving everything around until it looks just right."
fig. from left: Artist Lena Petersen, Berlin; 'A New Tribe' store owner Ella Jones, London. Photographed by Sandra Semburg for the Pandora 'DO See The Wonderful' Autumn 2017 jewelry campaign; launch 31 August.
The image series appears like a story about the wonderful created by women - for themselves and others. It's announced that the Autumn 2017 collection will be launched together with the 'DO See The Wonderful'-campaign on 31 August on www.pandora.net.

more culture>