17 May 2017

Austrian artist Peter Kogler's wallpaper for the art pavilion of EXPO 2017 'Future Energy' in Astana, Kazakhstan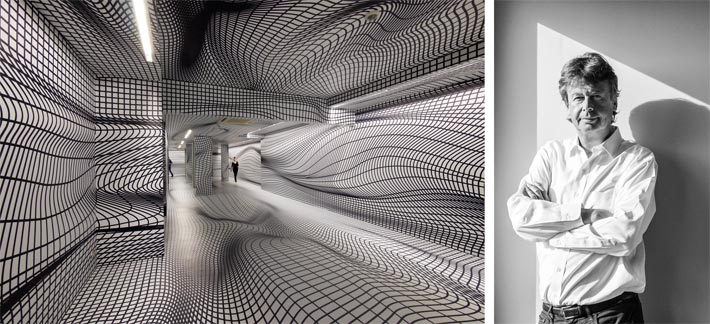 On 10 June, the next world exposition 'EXPO 2017' under this year's theme 'Future Energy' will open its doors in Astana, the capital of Kazakhstan (until 10 September). While countries from all over the world will present new technologies and pratices concerning sustainable energy or combating climate change at the Astana EXPO 2017 area, the organizers initiated the special art pavilion where robotic art by 17 artists from 13 countries will visualize this year's theme from another angle. The 'Artists & Robots' exhibition is curated by the French cultural institution Rmn-GP (Réunion des musées nationaux – Grand Palais) in collaboration with the international creative agency Avantgarde (founded in Munich in 1985). One of the selected participants belongs to the most important and international successful Austrian artists, robotic art pioneer Peter Kogler (lives in Vienna) who works with computer generated drawing programs since the early 80ies and is especially known for repetitive designs which are applied as architecture re-structuring wallpapers. For EXPO 2017, Peter Kogler generated the all-over (floor to ceiling) trompe l'oeil-like labyrinth pattern 'Wallpaper 2017' which diffuses the visitors' perception of the room with the hypnotic visual effect of a vibrating space.
fig. from left: The oeuvre of Austrian artist Peter Kogler comprises space-consuming works that evoke a vertiginous feeling of disorientation. In Astana he presents his new 'Wallpaper 2017'. Right: Peter Kogler at the EXPO 2017 in Astana. The international successful Austrian artist, twice shown at the Documenta in Kassel, will be present at the opening of the EXPO art pavilion in Astana on 10 June 2017.