20 February 2017

Puma X Minions release sports footwear and apparel in subversive sweet design for the whole family in June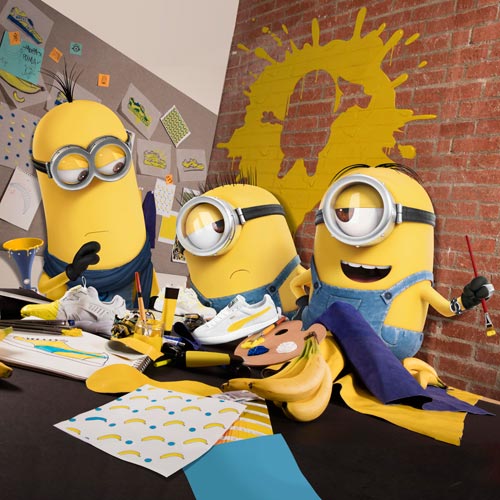 Collaborations between exceptional labels, artists, musicians, etc. are practiced every day - successfully! And here is a new teamwork which is striking! Especially how it's mediated.
fig.: The three Minions Stuart, Carl and Kevin are depicted while working creatively with Puma items - on view at the image the Puma Suede sneaker. For the 'Puma X Minions' collection, classical Puma pieces will be branded with an own logo which unifies the label signs of Puma and the Minions. The Minions' design style is described as 'subversive sweet'.
Photo by Tony Garcia Photography.
Gail Harrison, President of Marketing and Branding, Illumination Entertainment (producer of Minions movies) says about the cooperation: "For the past seven years, Minions have engaged people of all ages and cultures with their unexpected, often subversive behavior. For the first time, Illumination has identified three Minions with passion for design to interrupt PUMA's highly successful creative process. This all-new collection combines our favorite classic PUMA styles with an unorthodox measure of bananas, mishaps and more. In true Minion form, they fail upwards again."
It's announced that the Minions' designs of sports footwear and apparel Autumn/Winter for women, men, and kids will be available from 1st June at Puma shops, online and selected concept stores (men, women) like Colette in Paris and kids retailers in time with the Minions' next movie 'Despicable Me 3' which will be released at the end of June worldwide. At the trailer, the new villain Balthazar Bratt is starring in 80s inspired dance-scenes while boarding (with chewing-gum-bombs) a ship; music for the dance-boarding scenes: 'Bad' by Michael Jackson.
Video: Trailer 'Despicable Me 3' (release 30 June 2017). The animated film is produced by Illumination's Chris Meledandri and Janet Healy, and executive produced by Chris Renaud; directed by Pierre Coffin and Kyle Balda, co-directed by Eric Guillon, and written by Cinco Paul & Ken Daurio.