2 May 2017

R. Horn's for mint series on occasion of the 300th birthday of the ruler of the Habsburg empire Maria Theresia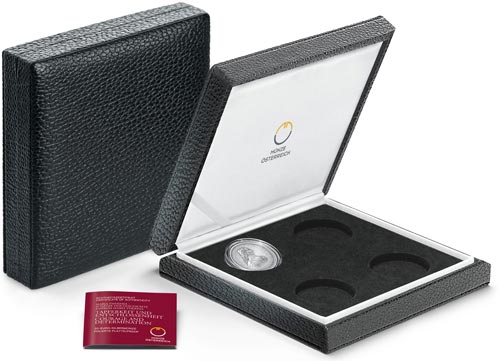 Maria Theresia was born on 13 May 1717 and is the country's most important woman in the history of the Austrian Monarchy. The Empress, Archduchess of Austria and Queen of Hungary was literally a 'ruler'. From 1740 until her death in 1780, Maria Theresia initiated for example the school system (obligatory for all) or regulated the business of small crafts companies, manufactories and industry with long-lasting impact on society and economy. Also the education of craftsmanship with an eye on the arts (later realized at 'Manufaktur - Zeichnungsschule' where art was applied to crafts) was theme during her time of reign. Another example for the combination of business and art terms for the naming of schools is the textile school 'k.k. Commerzialzeichnungsakademie' (could be translated as 'Commercial Drawing Academy', founded 1758) which is known today as 'Spengergasse'.
Until today, the approach of the mother of the most prominent fashion icon of the 18th century Marie Antoinette (who was one of 16 children of Maria Theresia) is signature for Austrian crafts such as it can be experienced at R. Horn's leather goods (especially bags) which are inspired by the esthetics and works of artists, architects, designers of the 19/20th century.
fig.: For the special 'Empress Maria Theresia'-series of four coins by 'Münze Österreich' ('Austrian Mint'), R. Horn's designed the collectors case.
The four coins tell the story of the life stages of Maria Theresia beginning with the early years of her regency. The first of the series is entitled 'Courage and Determination' and shows on one side the portrait of Maria Theresia from 1741 once made by sculptor, medal engraver Matthäus Donner and adjusted by Austrian Mint designers for the silver 20.- Euro coin. On the other side, the symbolic image of Minerva and the writing 'Fortitudo' express the strength of the 23-years old woman at the beginning of her reign. Minerva with shield with coat of arms and the army of war in battle originate from a medal motif by Adam Werner from 1743; the flags and pieces of artillery are taken from a medal from 1773, assumingly created by Anton Wiedemann.
fig. below: 'Courage and Determination' silver coin of the four part series 'Empress Maria Theresia' by Münze Österreich. Photos: © Michael Stelzhammer.
Annotation for the ones who are interested in further explorations of the 18th century:
Until 29 November 2017, the exhibition Maria Theresa: Strategist – Mother – Reformer at four locations in Vienna and Lower Austria is on view.