8 March 2017

Interactive textile installation 'Text und ilien' is one of the projects at Take Parcours during Take Festival Vienna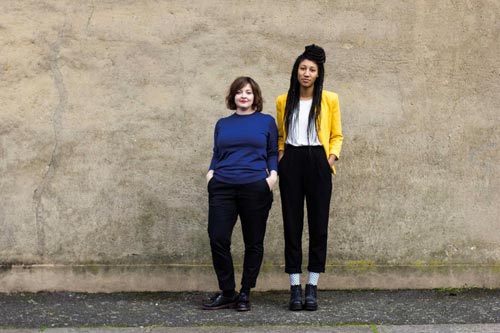 On 26 April, the multi-disciplinary exhibition 'Take Parcours' of 30 projects will open at 18:00 during Take Festival for Independent Fashion and Arts (25 - 29 April) at the former office spaces of Alte Post at Dominikanerbastei 11 in Vienna. Part of 'Take Parcours' is the interactive installation 'Text und ilien. Ein Dialog' by Sophie Skach and Naa Teki Labar who created textiles (two pullovers) with embedded sensors which react on visitor touches with audio text. It's announced that the textile installation will turn by the visitors' interactivities with the pullovers into a 'prosaic scenario'. Closer information about the content of the audio text isn't public yet.
In the months, weeks before the festival, the Take blogger team will provide insights into the projects and throw light on the artists. The articles will be published at take-festival.com.
fig.: Sophie Skach (combines mathematics and fashion) and photographer Naa Teki Lebar. Photo: (c) Naa Teki Lebar.


more culture>