15 January 2017
Tiberius designer Marcos Valenzuela's gowns for the concert performance of the opera 'The Miracle of Heliane'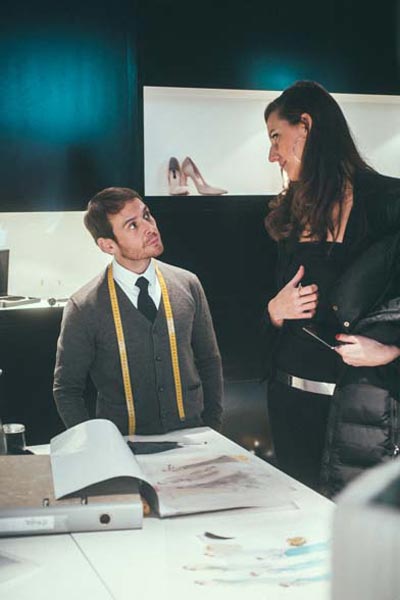 Vienna-based 'Tiberius' counts since around 20 years to one of the most important fashion design brands in Austria. Since several years, Marcos Valenzuela is the artistic director of the label which stands today for elegant couture. In around two weeks on 28 January, visitors of the Volksoper Wien concert performance of the opera 'The Miracle of Heliane' ('Das Wunder der Heliane') by Erich Wolfgang Korngold (world premiere happened in 1927) will see two of the latest creations worn by soprano Annemarie Kremer and mezzosoprano Martina Mikelić. The singers will perform the parts of the leading roles of the opera which is shown rarely but counts as mentioned by Volksoper according to Korngold-researchers to the composer's most important works. In the mid-1930s, Erich Wolfgang Korngold had to leave Austria and moved to US where he composed movie scores, received award nominations and won awards (two Oscars).
fig. right: Martina Mikelić and Marcos Valenzuela during the creation process of the dresses for the Volksoper Wien concert performance of the opera 'Das Wunder der Heliane' by Erich Wolfgang Korngold. Below: The images show sketches for the role of Heliane and Marcos Valenzuela browsing through the fashion illustrations for the stage performance. The photos were shot at the Tiberius studio and concept store in Vienna. Photos: Jenni Koller.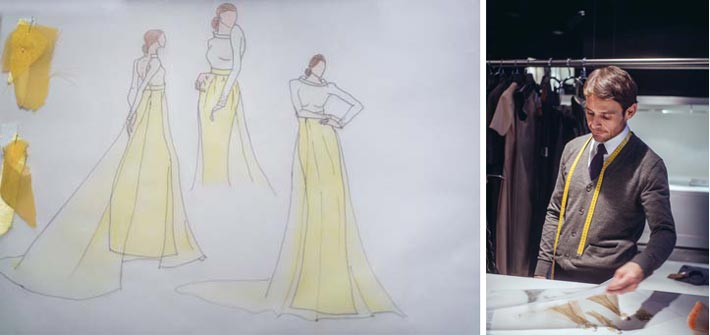 Embedded post (below): The video by Volksoper Wien was filmed at the Tiberius store at Lindengasse 2 in Vienna. Marcos Valenzuela speaks about his approach to the evening gowns for the singers Annemarie Kremer and Martina Mikelić. The dresses are not costumes like it's common at opera stages but fit the opera roles with focus on the individual style of the singers. As Marcos Valenzuela explains, he was less concerned with designing costumes, but designed dresses that are credible and expressive, highlighting the personality and character of Annemarie Kremer and Martina Mikelić, while at the same time reflecting their figure in the opera. The role of 'The Messenger' interpreted by Martina Mikelić is attributed by Marcos Valenzuela with lightness, sex-appeal, self-consciousness and femininity; the role/singer is dressed in floating fabrics. The main role 'Heliane' by Annemarie Kremer is queen-like and attributed with gracefulness, magic, generosity which is expressed with strong colors.