14 April 2017

Vienna Insight: Fabric retailer 'Komolka' is one of Europe's best addresses for dressmakers and costume designers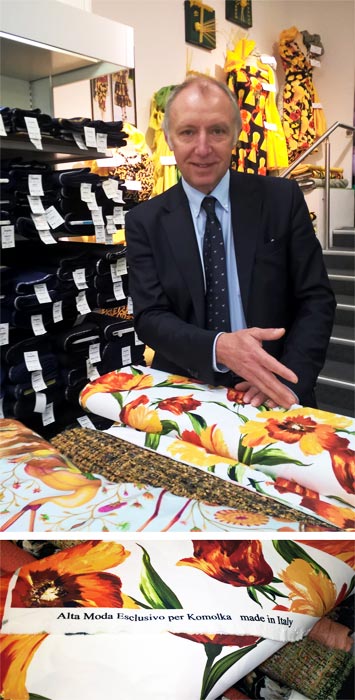 Professional tailors which create couture after inspirations from the international catwalks, designers of small exclusive ranges, students of fashion schools or costume designers for film, theatre or opera productions in Austria, Germany, Switzerland and other countries know the address of fabric retailer 'Komolka' at Mariahilfer Strasse 58 at the 7th district of Vienna. A small entry leads through a corridor to the extensive three floor store.
Today, Fashionoffice met CEO Herbert Komolka whose grandfather founded the company which offers nowadays at the store at Mariahilfer Strasse one of Europe's most comprehensive fabric ranges at one location. From classical blazer fabrics, Scottish tartans, typical Austrian trachten textiles over evening gown, cocktail and wedding dress silks, brocades, velvets or woven surfaces with various embellishments to more practical and functional fabrics for children's clothing, sportswear or for interior decorations like pillows or curtains.
fig.: CEO Herbert Komolka manages in the third generation the fabric retail store 'Komolka' at Mariahilfer Strasse 58 in Vienna.
Fashionoffice knows the 'Komolka' store since several decades and each time when visiting the fabric heaven something new can be found; such as for this Spring/Summer season colorful fabrics from Komolka's own labeled range 'Alta Moda Exclusivo per Komolka - made in Italy' (on view at the image right). Komolka collaborates for the production of textiles with Italian manufactories where the dessins (pattern designs) are printed on qualities like elastic jerseys or light crêpes.
At the company's website, seasonal trends are listed such as 'Jersey Rapporte'. The rapport fabrics show patterns of sceneries, graphical arrangements (mainly used for dresses and tops) or even prints of 'Old Masters' like the one Fashionoffice bought today; it's a print of the 17th century painting 'A Pelican and other Birds near a Pool' by Melchior d' Hondecoeter designed by Stenzo Textiles on Oeko-tex cotton jersey (image below).