16 May 2017

Vienna Insight: Preview of the exhibition 'Buy from Jews! Story of a Viennese store culture' at Jewish Museum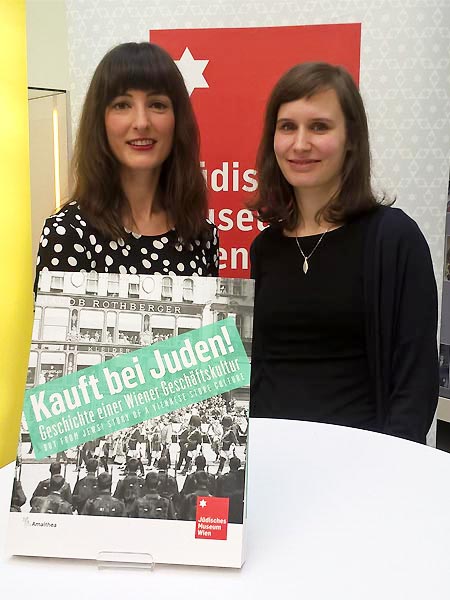 Today, the curators Astrid Peterle and Janine Zettl (photo right, from left) introduced into the exhibition 'Buy from Jews! Story of a Viennese store culture' (17 May - 19 November) about the beginnings of department store culture in the mid-19th century up to our days. The exhibition bases on the curators' research on
the history of the 18th and 19th century, especially the political and economic foundations (keyword: guilds) for the establishment of department stores which grew in many cases out of Jewish companies located at the Viennese garment district (Judengasse, Marc-Aurel Strasse, Rudolfsplatz, Salzgries),
or the cultural impact of department stores with regard to the architecture of the buildings for the city's landscape as well as the chic temples' staging of the latest fashion such as on view at Victor Gruen's special concept for window displays. Architect Victor Gruen is known as shopping mall pioneer in the United States where he moved after his escape from Vienna in 1938.
For the exhibition, the curators used various archive materials which are partly wallpapered at the exhibition rooms or projected as film documents such as street scenes found by Janine Zettl in a film archive concerning times of Aryanization of Jewish property in 1938. (Aryanization means that Jewish owners lost their department stores as they were given by governmental order of the Nazi-regime to non-Jews.)
fig. below, left: Curator Astrid Peterle is standing in the room about Maison Zwieback. The image behind shows Maison Zwieback at Mariahilfer Strasse at the turn of the century (around 1900).
At 'Buy from Jews! Story of a Viennese store culture', several original fashion pieces such as the coat (picture below, right) are on view.
fig. below, right: Curator Astrid Peterle in front of the handwoven coat from Maison Zwieback (Vienna, 1920s). The coat is one of the items from the collection by Claus Jahnke who bought the pieces from owners who emigrated to the United States or Canada. The Collection Claus Jahnke is for the first time on view in Vienna.
The exhibition closes with an intervention by Viennese artist Kathi Hofer who reflects with her work upon the function of fashion for the construction of identity.
The German/English written catalogue (on view at the image above) is an extensive recording of research results by the two curators and ends with a 'Style Critique' by artist Kathi Hofer who closes her article with the wish for fashion as symbol for anti-patriarchal resistance.