25 October 2017

Vienna Insight: Shopping art at Kunstsupermarkt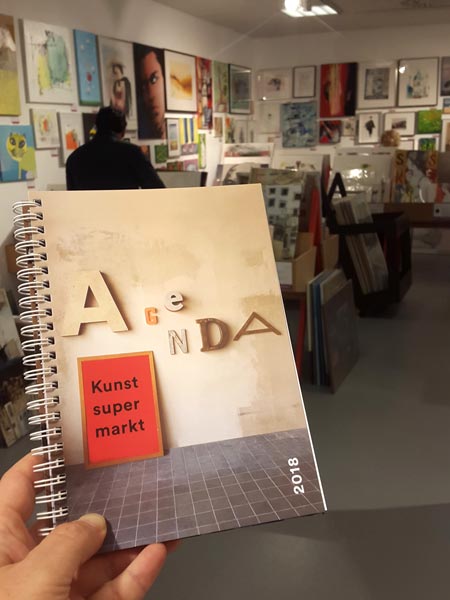 Around 60 artworks are published at the Kunstsupermarkt calendar 'Agenda 2018' which provides a good impression of the wide range of the recently opened Kunstsupermarkt at Mariahilfer Strasse 103 (at the passage) in Vienna. The supermarket with a stock of more than 6000 artworks opened on 19 October and can be visited until 27 January 2018.
The artworks at the calendar start with the overviews of school holidays in the three countries Switzerland, Germany and Austria where Kunstsupermarkt pops up each year. For the Germans' holiday overview, Kunstsupermarkt uses the painting 'Die Koffer' by Gotscha Chkhaidze showing a luggage staple inclusively hand bag and a cap; the painting evokes the impression as if somebody goes on a long journey.

The Swiss holiday planner is accompanied by Tony Weiss' painting (oil on canvas) of two mountaineers in vintage style which may remind Austrian artist Alfons Walde's depiction of the alps seen through a colorful pop-art lens. The artwork (acrylic on wood) by Tony Weiss carries the name '2486 m' and references the mountain height.

For the Austrian holiday overview, Kunstsupermarkt selected Gernot Singer's photography 'Caorle #2' showing the Italian beach with a high amount of rows of sun umbrellas and loungers.
The first week of 2018 is visually accompanied by Anna Gertrud Wenning's painting 'Werft' (shipyard) of a ship which seems to just take off like a mystical flying craft. The image mediates an optimistic, almost audacious impression in the way of Everything Is Possible.
Kunstsupermarkt Vienna's range of paintings, photographs, drawings, sculptures and collages for affordable prices (after four categories: 59 Euros, 110 EU, 220 EU or 330 EU) is impressive! Browsing through more than 6000 artworks by around 90 artists from 14 countries challenges the art instinct for selecting the matching artwork for the office, for at home - the kitchen, the living room, the bedroom, or as gift for another person. Some of the works are stored in boxes like vinyl albums in a record store; many won't fit the personal taste, some artworks might match perfectly the desired usage.
fig.: The image shows the cover of the Kunstsupermarkt Agenda 2018 and an insight into the Kunstsupermarkt at Mariahilfer Strasse 103 in Vienna (open until 27 January 2018). The calendar is available at Kunstsupermarkets in Austria, Germany and Switzerland for 10.- Euros. Photo: (C) Kunstsupermarkt.