8 April 2017

Vienna Insight: Culinary, arts & crafts, and cosmetics at the weekend market 'Markterei'
Today, Fashionoffice visited Markterei's special edition 'Marketerei plus Design!' (7, 8 April) at Alte Post in Vienna. Several exhibitors at the weekend market (Friday, Saturday) belong to Markterei's fix program, others join the events from time to time or on occasion of a special theme such as 'Design'.
fig. below: The food label 'Ein Genuss' by cook and chef at the Viennese restaurant 'Zum Weissen Rauchfangkehrer' Andreas Zwickl (second image) opens its booth at almost every Markterei event. On view at the images 3 and 4 are bottled ready-to-bake ingredients for cake creations such as poppy-chocolate or sweet-blonde, and syrup (4th picture) like elder-citrus or rose-strawberry. 'Ein Genuss' will sell its products even next week at the Markterei Easter Shopping.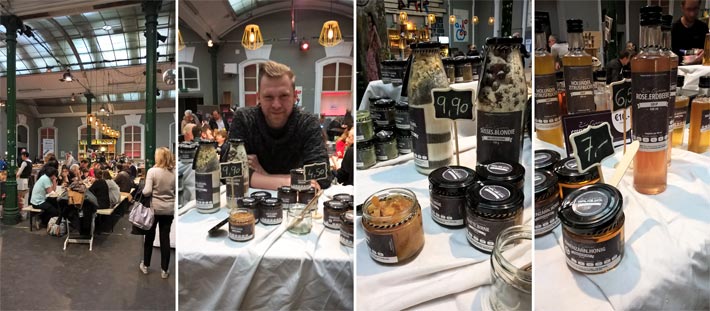 fig. below: At this weekend's event 'Markterei plus Design!' (7 and 8 April), several design labels exhibited their products. Porcelain label 'Bibi''s figurines of bathing women are inspired by 1950s fashion of swimwear. 'Bibi' was founded by artist Barbara Beranek (1st image) who studied textile and product design - ceramics at the University of Applied Arts in Vienna. Alongside to figurines of women, Bibi presented functional objects like salt spreaders in friendly colors and forms like the rabbit on view at the 2nd image.
The images 3 and 4 show two of the three members of the art-fashion group 'Violettsays'. Left, Michèle Mahal is standing beside the rack with tops and skirts like the green one with folds, white print and black stripes; the skirts are equipped with comfortable higher and flexible waistbands. At the image right, Waltraud Holzfeind is holding one of her bags. The bags carry at the front side prints of photographic art works and sayings by friends and the 'Violettsays' members themselves who dedicated their label to 'happy women and fearless men'.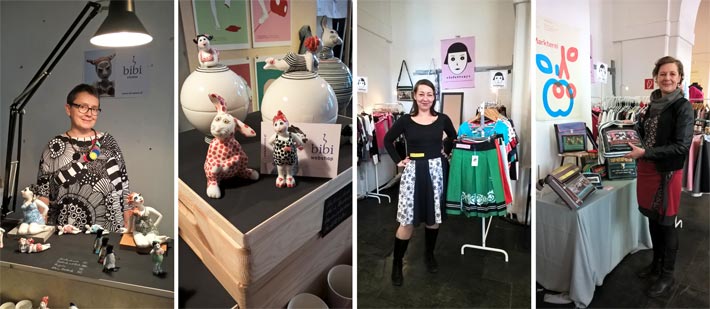 fig. below: The images show beauty products by Lederhaas (Vienna) and right, ceramics by EL BE (based in Melk, Lower Austria).
The peeling soaps from the 'Rock Salt Edition' are made in Vienna with salt from the mountain region Altaussee, Salzkammergut in Upper Austria. The soaps' fresh scent reminds mountain plants; the scent is composed from fir, wood and lavender.
EL BE designer Lena Bauernberger uses for the closures of the ceramic storage boxes Chevron beads. They are manufactured in Italy, Veneto which is known for the high quality of artful glass works. The writings on the boxes can be customized; today, EL BE exhibited boxes with writings like (translated from German) 'Evil Tongues'. Fashionoffice asked what shall be stored at the box? Evil tongues, what else! :-)






more culture>