25 December 2017

Works by young artists seen at the preview of Art Innsbruck 2018 (25 - 28 January in Tyrol, Austria)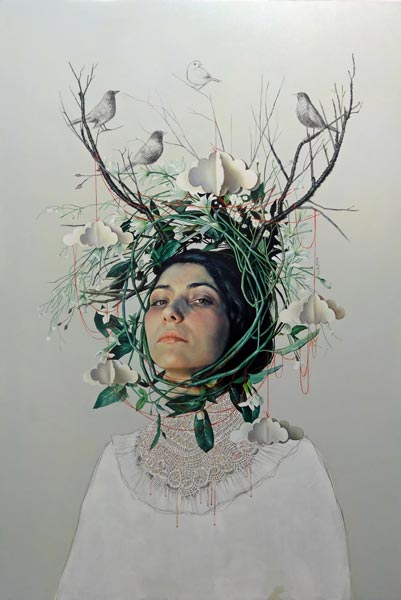 The 22nd edition of the annual Art Innsbruck with focus on works of the 19th, 20th and 21st century will happen next year from 25 to 28 January at the exhibition hall A of Messe Innsbruck at the capital city of the Austrian state Tyrol. Among the art works which are presented already at the preview is the painting 'Tra le mie nuvole' (transl. In My Clouds) by Elisa Anfuso (born 1982 in Catania, Italy) who is inspired by the techniques of Flemish Masters, Renaissance art and the wonders of life - reality, fantasy, the unconscious and dreaming. Elisa Anfuso is one of the interesting young artists who can be found at the booth of Galerie Augustin (galleries in Vienna and Innsbruck).
fig. right: 'Tra le mie nuvole' by Elisa Anfuso, 2017; oil and pastel on canvas, 150x100cm; Galerie Augustin, Innsbruck-Wien-AT. (C) Galerie Augustin, Innsbruck-Wien-AT.
The image shows a woman wearing a head sculpture made of flowers, leaves and branches where birds sit. Red threads are wrapped around the crown; some of them are used for fixing white clouds to the head sculpture.
fig. below: View at the hall at Messe Innsbruck where more than 80 European (Germany, Austria, Switzerland, France, Italy, Russia,...) exhibitors will present artists at the 22nd 'Art Innsbruck' from 25 until 28 January 2018 in Innsbruck, Tyrol, Austria. Photo: Szenebilder Art Innsbruck / (C) Die Fotografen, Tanja & Charly Lair, www.diefotografen.at.