3 February 2018

Vienna-based architecture and design studio Labvert provides insights into the design of the Rimowa pop-up store in Beverly Hills, Los Angeles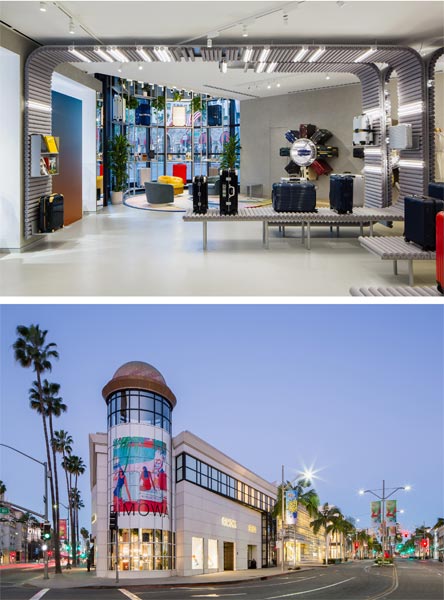 Hollywood Reporter listed the first-ever pop-up store of Rimowa already last year in mid-December shortly after the opening with celebrities like Pharrell Williams or Dita Von Teese at an article about shopping in Los Angeles. Yesterday, some insights into the shop on Rodeo Drive, Beverly Hills were sent by Vienna-based architecture & design studio Labvert who mediates the lifestyle of traveling by setting elements of airports and impressions of flying onto the store stage.
"We created a spatially dynamic interpretation of the traditional suitcases from Germany with the characteristic grooves. The impulsiveness of traveling and airports with their conveyor belts are the associative motifs that inspired us," said Stephan Vary, Labvert. The architecture & design studio announces that more Rimowa stores will follow this year in Europe, Asia and USA.
Alexandre Arnault, CEO of Rimowa (belongs since last year to LVMH Group) sees the brand's stores in the future as places where luggage commerce is upgraded with additional travel products & services.
fig. from above: View at the lounge area at the Rimowa pop-up store in L.A. where - similar to an airport, a wide range of travel-related products such as books, magazines, cosmetics and accessories can be found. Below: Rimowa pop-up store on Rodeo Drive, Beverly Hills. The shop popped up in mid-December 2017 and is open for a duration of 6 months. Photos provided by Labvert: (C) Josh Cho.