4 January 2018

Art questioning fashion and everyday culture at 'Sabine Ott - Frozen Performance' at Galerie Michaela Stock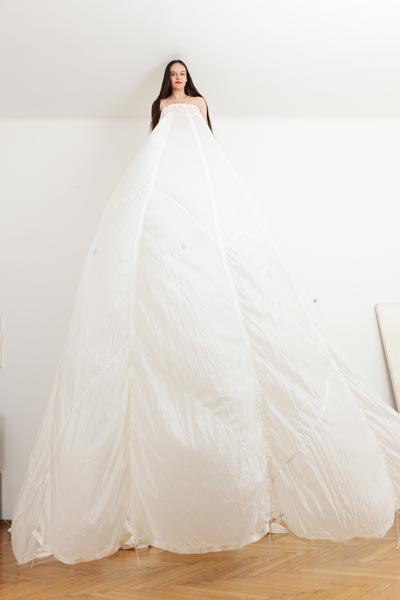 From 18 January (opening day) until 3 March, Galerie Michaela Stock will present Sabine Ott's art works about fashion, society, everyday culture and the role of women at the solo exhibition 'Frozen Performance' (details in English, German) at the gallery space at Schleifmühlgasse 18 in the 4th district of Vienna.
Among the art works are images from the series produced in collaboration with photographer Alexandra Eizinger such as the parachute dress (on view on this page) which was one of the most interesting art works at last year's (April 2017) 'Take Festival for Independent Fashion and Arts'. At the performance '3min', the textile installation was blown up by a ventilator every three minutes and evoked impressions like an angel landing or transience; last mentioned mediated through the volatile air which created a beautiful woman's dress before the installation turned again into a loosely hanging parachute. Some visitors might had seen also an analogy to the tale of Cinderella which tells not only the story about a magical ball gown which turns into rags after midnight, but about the importance of the wearer's character which stays the same - whether dressed in a grande robe or in rags.
It's announced that the book 'Sabine Ott Frozen Performance' (published by Triton Verlag) will be presented at the exhibition's closing event on 3 March.
fig.: 'Fallschirmkleid / parachute dress' by Sabine Ott, 2015. Courtesy: Sabine Ott / Galerie Michaela Stock. Photo: (C) Alexandra Eizinger.


more culture>