12 February 2018

Artist Otobong Nkanga explores via consumer products relationship between Africa and Western world at 'To Dig A Hole That Collapses Again' exhibition at MCA Chicago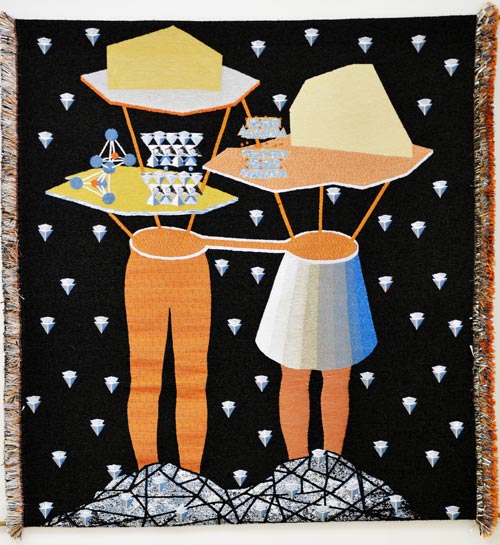 The tapestry (image right on this page) from the multimedia installation 'In Pursuit of Bling' is one of the center pieces at the upcoming exhibition 'Otobong Nkanga: To Dig A Hole That Collapses Again' on view from 31 March until 9 September 2018 at MCA Chicago. The work by the Nigerian-born (1974), in Belgium, Antwerp-based artist is driven by thoughts about economies, colonialism, the exploitation of natural resources, and the fascination for 'shine'. The word 'shine' refers to raw materials as well as to the obsession to own 'bling' products. 'Bling' becomes in the artist's work an important key for explaining current dynamics in economies and movements. The installation consists of various media like photos, video, tapestry as well as geological samples.
In another part of the show, Otobong Nkanga will visualize her own memories of growing up in Nigeria with almost self-explaining images such as 'Filtered Memories - Home, 1977', 'Filtered Memories - Reduced to Ashes, 1978' or paintings of the 'Social Consequences'-series.
The exhibition title is derived from the name of the Namibian mining town Tsumeb (means literally translated 'To Dig A Hole That Collapses Again') which will play even at the opening day's performance an important role. The sculpture 'Solid Maneuvers' will be poured - some may be reminded of shamanic rituals - with various raw materials and cosmetic powder. MCA Chicago describes the performance "...as if trying to piece the extracted elements back together."
Especially for the MCA exhibition, Otobong Nkanga installs a perfume-like scented water stream at the wall. The stream in the form of a meander is spiced with ingredients (cardamom, cinnamon, cloves, coriander, cumin, pepper, vanilla) imported to Chicago.
fig.: Otobong Nkanga, In Pursuit of Bling: The Transformation, 2014. Courtesy of Lumen Travo Gallery, Amsterdam and Galerie In Situ – Fabienne Leclerc, Paris. (Provided by MCA Chicago on occasion of the exhibition 'Otobong Nkanga: To Dig A Hole That Collapses Again', on view from 31 March until 9 September 2018.)


more culture>