11 March 2018

A selection of creativity, fashion and textile related events at the Long Night of Research (Lange Nacht der Forschung) on 13 April in Austria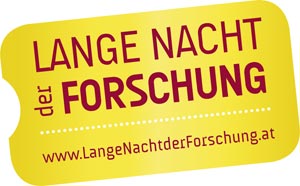 Fashionoffice browsed through the programme of this year's 'Lange Nacht der Forschung' (Long Night of Research) and selected some research topics under the aspects 'Creativity, Fashion and Textile' from 1840 events concerning a wide range of sciences in the fields health (medicine, nutrition,...), robotics (from production processes to social approaches to the future of work and society), artificial intelligence (from new possibilities to programming), sustainable energy solutions, motor, music, etc on view on 13 April at more than 250 research stations in Austria's nine federal states.
'Creativity - What it is and how we increase it' with focus on finding new solutions, products and if creativity is developable or a fix variable are themes at the research station Privatuniversität Schloss Seeburg in Vienna.
Fashion related programming will be introduced via 'Turtlestitch' (programming individual stitch-patterns for the sewing machine) at the Austrian Computer Society (Österreichische Computer Gesellschaft) in Vienna.
The Austrian Marketing University of Applied Sciences 'Campus Wieselburg der FH Wiener Neustadt' in Lower Austria invites to 'die.schneiderei - Alice im Fashionwonderland?' about the world of influencers, social media and the impact of the fashion and beauty industry on people's opinion.
In Upper Austria, the University of Art and Design Linz (Kunstuniversitat Linz) opens the Fashion & Technology department for an exploration of new processes and methods under the title 'Fashion in Transition?' (Mode im Umbruch?).
In Graz (Styria), the Center for Knowledge and Technology Transfer in Medicine ZWT (Zentrum für Wissens- und Technologietransfer in der Medizin) presents with the smart textile t-shirt QUS by sanSirro (video from the presentation at CES in Las Vegas) new perspectives for sports, health-care and diagnostics; 'How can a smart t-shirt measure heart rate, steps and much more?'.
In Dornbirn at the University of Applied Sciences FH Vorarlberg, the event 'Path of Enlightenment - textiles in energy storage' will introduce into energy storage and transfer via textile batteries.