10 February 2018

Samsung equipped PyeongChang Olympians with the games' official phone for capturing best moments,...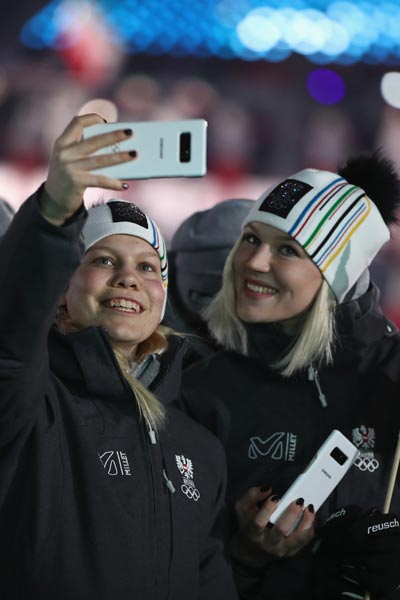 ...for sharing impressions with the world and for staying connected with family and friends at home.
fig.: The image shows two Olympians from Austria, discipline bobsleigh, Victoria Hahn and Valerie Kleiser, capturing selfies with the official Olympic Games phone 'PyeongChang 2018 Olympic Games Limited Edition' at the Olympic Winter Games PyeongChang 2018 Opening Ceremony on Friday, 9 February 2018 in PyeongChang, Korea. The Olympic phone is a special edition of the Galaxy Note8. The shiny white back glass pays tribute to the winter theme and is decorated with gold Olympic Rings. Photo by Clive Mason/Getty Images; (C) 2018 Getty Images.
Samsung Electronics is the worldwide Olympic partner in the 'Wireless Communications Equipment and Computing Equipment' category and donated in collaboration with the International Olympic Committee (IOC) 4,000 devices to all PyeongChang 2018 athletes.
But politics doesn't make a pause! During the last days, reports concerning discussions caused by international sanctions about giving the expensive phones to Olympians from Iran and North Korea appeared online (read an exemplary article on Reuters).


more culture>