10 March 2018

Trendy SS2018 'Experiencing the Wind' activities in Austria seen at a lake in the Puszta and over the Alps

Each season, the most favored activities of Austrians and the country's visitors are summarized by Austria.info and accompanied by practical information such as the annual calendar of Easter markets or a list of trendy sports & adventure activities with closer information where to find what. From the last mentioned summary of trendy sports & adventure activities, Fashionoffice selected two after the criteria 'Experiencing the Wind': watersports (kitesurfing, windsurfing) at lake Neusiedl (Neusiedlersee) and paragliding (exemplary in tandem version over the city of Salzburg).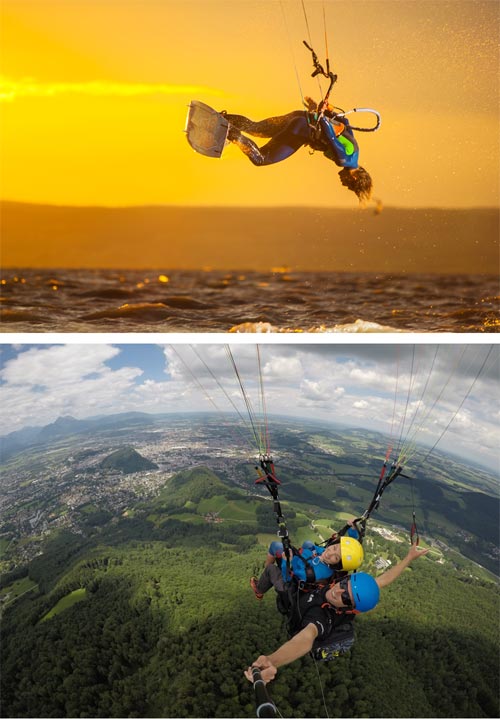 Let's start in the East of Austria in the Pannonian steppe or in Hungarian language 'Puszta'. Austria and Hungary are sharing lake Neusiedl. The lake is known for its extraordinary winds and the whole region - East Austria, Hungary, is associated with an overall more fiery temper. The region is connoted in the people's cultural memory with the wild, peppery Puszta lifestyle. Lake Neusiedl is located nearby Vienna (the distance to Neusiedl am See is around 40 min. via train).
Kitesurfing courses can be attended for example at Podersdorf kitesurfing.at or at Jois hangon-kiteboarding.com.
International professional windsurfers will meet at the next Surf World Cup from 26 April until 1 May 2018 at Neusiedl am See.
fig.: Kitesurfer at lake Neusiedl. Photo: (C) Neusiedler See Tourismus GmbH / Martin Reiter.
Paragliding is another trend activity. It's typically practised in the mountainous Western Austrian landscape. One special variation of the trend sport is sight-seeing paragliding over the city of Salzburg. The city is surrounded by the mountains Mönchsberg, Kapuzinerberg, Nonnberg and Gaisberg - at the last mentioned mountain, one of the tandem flight routes by 'FlyTandem' starts; the planned landing varies with the wind.
fig.: The image shows tandem-paragliders flying the Salzburg sightseeing tour. (C) flytandem.at.