14 March 2018

Labvert's interior for new Dior eyewear boutique in Paris evokes ideas of a sunny warm day at a natural beach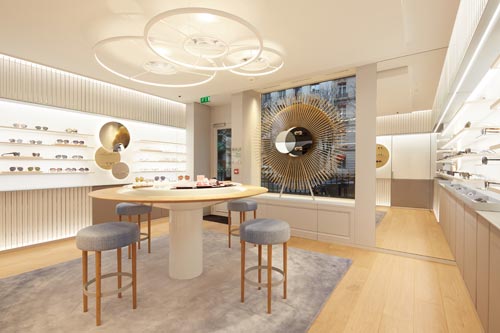 The latest project presented on the website of Vienna-based architecture and design studio Labvert is the Dior glasses boutique at Avenue Montaigne in Paris. The first ever eyewear boutique by Dior opened already at the end of January. Now, closer views of the store with mainly round formed interior items reflecting impressions of a warm sun with golden sunray installation and evoking thoughts of a natural beach with sand colored carpet or wooden hand mirrors - especially designed and crafted for the boutique, are published. Above the central table, Labvert applied chandeliers equipped with optical lenses.
"To close your eyes and feel the sun in your thoughts: that was the inspiration for the new Dior boutique." says Stephan Vary, Labvert.
fig.: Dior Glasses Boutique for Christian Dior Couture.
Local Architect: MIL architecture, Paris
Executing contractor: Elypso SAS
Stools: Wittmann
Chandeliers: Prolicht

Photo: (C) Andreas Scheiblecker.