25 February 2018

International 'Tricky Women' festival focuses on political & documentary animation films (7 - 11 March 2018, Vienna)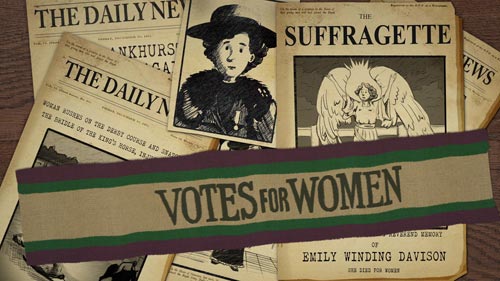 ...such as the animation film 'Who was Emmeline Pankhurst?' by Katie Steed, British director and co-founder, creative director of London-based 'Slurpy Studios', about early 20th history of women's fight for the right to vote and equality. Since 100 years (since 1918), women have the right to vote in Austria. The film appears at the two central categories 'Social Changes, Politics and Women's Suffrage' and 'Work Affairs & Fair Play' of the program of the upcoming 'Tricky Women' festival which starts in time one day before the International Women's Day on 7 March. This year, the festival is focused under the title 'Reality Bites' on documentary and political films which get through the artistic means of animation an additional explaining narrative.
'Tricky Women' was founded in 2001 and offers also a creative space for directors like Canadian artist Moïa Jobin-Paré who was inspired for the 'Trailer Tricky Women 2018' by her 3-month-residency in Vienna. Screenings of submitted films for the 'Tricky Women 2018' competitions (with prices such as a scholarship under the Artists-in-Residence program) are alongside to the above mentioned two categories an important part of the festival.
fig.: Who was Emmeline Pankhurst?, Katie Steed, GB 2016.