4 March 2018

Handpicked vintage clothes from various decades seen at the traveling pop-up event 'Vinokilo' in Vienna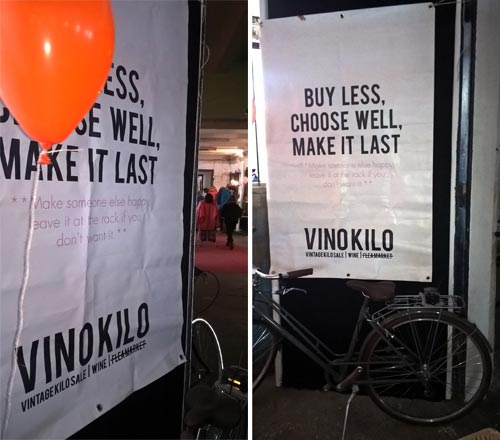 On 3 and 4 March, 'Vinokilo' popped up at the former horse stables of the horse racing track Krieau at Vienna's city forest 'Prater'. The location where the event happened is named 'Creau' and was already used for various markets such as for designer fashion. The concept of Vinokilo is driven by the idea to preserve fashion from former times. In Vienna, Vinokilo presented a wide range of partly extraordinary pieces from 70ies style sports items, 80ies streetwear, bags in hippie style, rain jackets in classic fisherman's fashion, tartan skirts,... to denim, especially a lot of jeans jackets from various decades.
fig. above: Views at the Vinokilo pop-up event on 4 March 2018 in Vienna. The images show a poster with the writing 'Buy Less, Choose Well, Make It Last **Make someone else happy, leave it at the rack if you don't want it.**"
The name Vinokilo is created from the words 'Vino' and 'Kilo'. The clothing items are weighed in 'wine' boxes made of wood (image below, right); 1 'kilo'gram was sold for 25.- Euros at the event in March.
Vinokilo was founded 2015 in Mainz (Germany) and travels through Europe. At the same time as the vintage pop-up happened with food, wine and music (DJ Jon Gravy) in Vienna (Austria), another Vinokilo event was held in Leipzig (Germany). Upcoming events: Düsseldorf (10 March), Munich (10 March), Hamburg (16 - 17 March), Berlin (17 March), Luxembourg (24 - 25 March),...
Vinokilo premiered in Vienna already last October 2017. It's announced that the vintage fashion event will return in autumn 2018 to Vienna.
The ones who can't attend one of the events, can use the online shop.
fig. below, from left: The image shows the Vinokilo denim booth and a rack carrying jackets and shirts at a former horse stable at Creau, Vienna. In front of the booth, parts of a colorful dress with floral print and below a Vinokilo branded white tote are on view. Right: One of the weighing-machines with wooden wine box which were placed at several locations at the way through the horse stables.