14 February 2018

Couture label ZOň by Inge Cecka received 'Austrian Wedding Award', category 'Best Wedding Gown Design'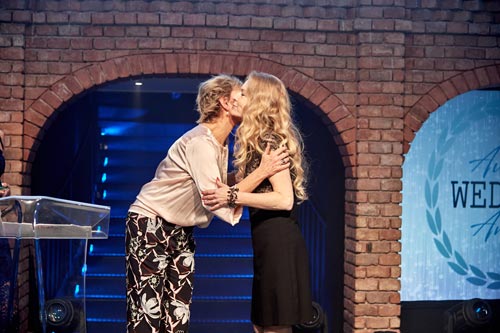 For the third time, jury members of the annual Austrian Wedding Award selected specialists in various fields concerning 'wedding'. The list of winners can be read like a best of directory of men's and women's fashion labels, jewelry, over bakeries, catering, DJs, photography, or locations which provide products and services especially for weddings; inclusively wedding planners.
The Austrian Wedding Award was founded by wedding planner Susanne Hummel whose professional knowledge of the needs of couples and their families have been the basis for structuring the Austrian Wedding Award into practical categories - such as the award in the category 'Best Wedding Gown Design' which was handed out this year by one of the jury members, Braut- & Bräutigam Magazin (brautmagazin.at) Chief Editor Susan Lippe-Bernard to ZOË Bridal Couture by Inge Cecka on 1 February at the event location Nordlicht in Vienna. Since 15 years, Inge Cecka designs bridal wear. The presented ZOË Bridal Couture 2018 is named 'The Story of Flowers and Blossoms' and shows transparent fabrics with embroidered and applied florals, pearl details and feather-like materials.
fig.: Jury member Susan Lippe-Bernard (Chief Editor Braut- & Bräutigam Magazin) and Inge Cecka (ZOË Bridal Couture) at the Austrian Wedding Award ceremony on 1 February 2018 at Nordlicht in Vienna. Photo: (C) www.itsyourday.at.


more culture>