ANDREW MAJTENYI
fall/winter 2008/9

In February 2008, the Canadian born now in UK based designer Andrew Majtenyi debuted with his first UK show at the opulent Canada House supported by The Canadian High Commission. Andrew Majtenyi presented his new fall/winter 2008/9 collection in front of buyers, press, and other professionals of the fashion business.
Video: The Andrew Majtenyi s/s 2008 presentation at the Elle Show in Toronto in spring gives a good insight into the work of the designer. The three-day consumer event by the Canadian Elle Magazine happened from 25 – 27 April 2008 at the Direct Energy Centre.
Arctic terrain
Andrew Majtenyi was inspired for his current fall/winter 2008/9 collection by rough, rugged and artic terrains. He translated his vision into abstract quilted jackets, ice-white sheer dresses elaborated with spatterings of velvet and tailored coats.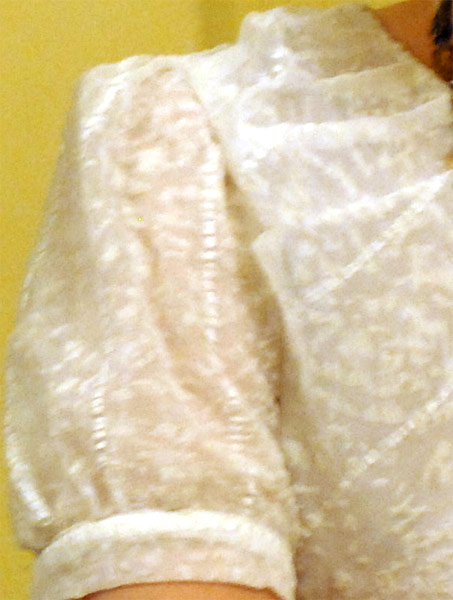 Shredded silks were treated to a dose of Andrew's distinct handwriting of a playful use of textures with innovative manipulation of fabrics.

Look at this blouse: can you imagine an iceberg breaking?

more design>>>
About: Andrew Majtenyi was born in St. Catharines, Ontario. He studied at Niagara College, London Central School of Fashion, Sheridan College and George Brown College, all of which specialize in various aspects of Fashion Design, Colour Theory and Image Management. Soon after graduation Andrew designed costumes for various theatres including a production of "The Velveteen Rabbit" which was commissioned by the multi-talented choreographer Kathleen Rea, before concentrating on his own signature line.
International shows: Andrew Majtenyi has shown in Canada, Prague and Dubai Fashion Week, has twice been invited to guest-star at Zagreb Fashion Week alongside leading design talents from Europe, Asia and Australia.
Awards for Andrew Majtenyi's work include National Post Design Exchange Award for Fashion Design, choice
recipient for the City of Toronto FILC "Most Promising New Designer," and Mecene Golden Needle Award
Finalist, Los Angeles.

Check out catwalk shows and movies such as the FW 07 about Crashtest-Dummies under the title "Smash" or the collection FW 06 "Homo Volans" inspired by skydiving! or the Sumer 08 collection at andrewmajtenyi.com


fig.: London Fashion Week Backstage © 2008 Andrew Majtenyi. WWW.ANDREWMAJTENYI.COM photo: Derek Lang and Patrick Anderson www.digitallypatrick.com

Make-up and Hair: editorial make-up artist Jose Bass directed the make-up with Terrence Wilson leading the hair team. Accents of electric blue were styled during the show in February 2008 to showcase fine detail and highlight the arctic vision of Andrew Majtenyi.