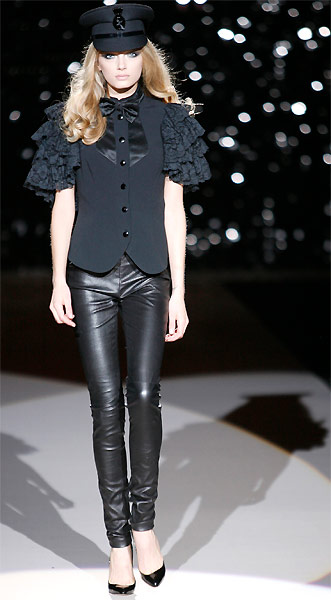 TEMPERLEY LONDON
fall/winter 2008/9
The Weaving of Mystery
British designer Alice Temperley's fall/winter 2008/9 collection for Temperly London is inspired by the famous exotic dancer and spy of the early 20th century: Mata Hari.
Mata Hari was the stage name of Margaretha Geertruida Zelle, born 1876 in the Netherlands. Mata Hari means in Malaysian language "sun", "eye of the day". Mata Hari was like Isadora Duncan one of the leaders in the early modern dance movement. Her legendary affairs with military officers, politicians and her suspected role as a double agent (for which she was accused and executed) in the World War I. makes her name synonymous for "femme fatale".
The Temperley London collection is an exotic web woven of mystery, intrigue and opulence.
fig: Although Mata Hari's outfits were a stark contrast to the military era of the time, you will find out that the collection includes the militarian time in the narration about the dancer and suspected double agent.
>Her wealth of black hair was still coiled about her head in braids. She put on a large, flapping black felt hat with a black silk ribbon and bow. Slowly and indifferently, it seemed, she pulled on a pair of black kid gloves. Then she said calmly: 'I am ready.'<
wrote the attending Britsh journalist Henry Wales about her execution on 15. October 1917.

Source: "The Execution of Mata Hari, 1917," EyeWitness to History, www.eyewitnesstohistory.com (2005).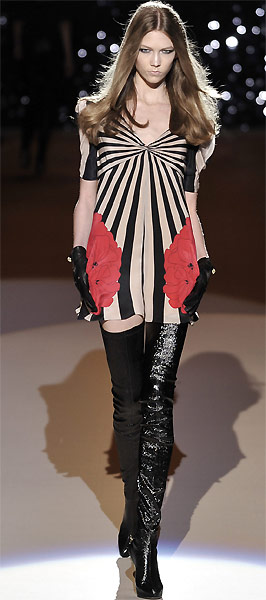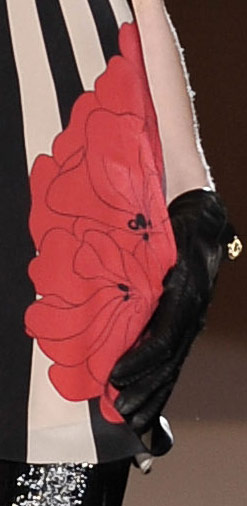 You will find in this collection the fascinating style corresponding to the multi faceted personality of the icon Mata Hari: rich jewel colours including velvety plum, vibrant emerald green and lime highlight a classic palette of soft cream, rose and clay. Fabrics include metallic jersey, stretch leather, angora and sheepskin as well as an array of silks. Embellishments are sumptuous and ornate, tulle dresses are swathed in jewels and exotic butterfly winged dresses shimmer with tiny sequins.
fig.: Prints include a geometric stripe and an over sized floral "Papillon Print".

Video: Temperley London, fall/winter 2008/9, cCatwalk movie, New York


The Designer
Alice Temperley, born in England in 1975, was trained at London's Central Saint Martin's College of Art. She finished her studies with a Masters degree at the Royal College of Art. Temperley is specialized in fabric technology and print, believing that these understandings are beneficial to the creative process as they enable the design to start with the fabric and its construction and work upwards from there. She won many awards including the Award for Innovation from Central Saint Martin's and English Print Designer of the Year 1999 at Indigo, Paris. More recently Alice was awarded the Glamour Magazine Designer of the Year Award, the Elle Magazine Young Designer of the Year Award along with The Walpole Award for British Design Excellence. She was also named one of Britain's top 30 business women.
Temperley London was launched during London Fashion Week in September 2000. Today Temperley London is available in own stores in London, New York and Los Angeles, and in around 290 boutiques and department stores in 35 countries, including Selfridges, Harrods and Harvey Nichols in the UK, Bergdorf Goodman, Neiman Marcus and Saks 5th Avenue in the US, Harvey Nichols ...
Temperley London is available on Net-a-Porter.com and NeimanMarcus.com.