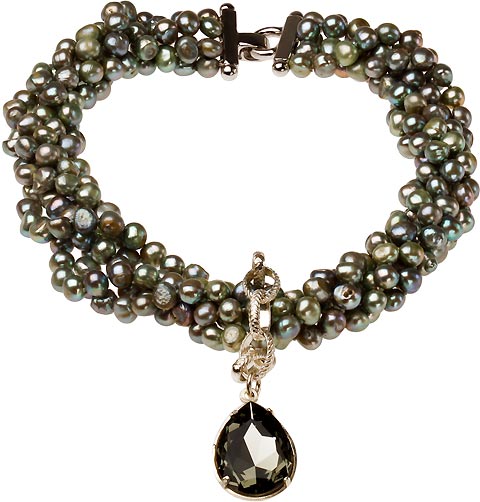 fig.: Twisted Pearl and Swarovski Choker by Mishca, fall/winter 2009/10, to be exhibited in the exhibition's Design Gallery www.mishca.co.uk.
Who stands behind Mishca? What is the name of the designer?
The full name of the designer is Michelle Shamash and a skilled team of jewellery craftsmen work with me to make my collections.
Where do you work/live? I.e. from UK based or other?
Mishca is UK-based but I am travelling continuously.

Can you please describe the style of Mishca in general with just 1-3 adjectives?
(If you have space for 4, even better! :-))
1. International, 2. Eclectic, 3. Lavish, 4. Timeless
The Mishca designs: "With an identity all their own they are made for the woman who knows her own mind and has decided that it is better to set the trend rather than follow it."

Which Mishca collection will be presented at the show?
As Mishca will be launching its new collection at IJL, the Opening Collection 2009-2010 will be presented at the show, which includes the pearl choker and a mixture of soft and vibrant designs. Special previews of the collection are available at Mishca's online boutique (www.mishca.co.uk) and from the new season, those who wish to experience the true feel of Mishca's jewellery, can find it at stockist Yvette of Knightsbridge, 71 Knightsbridge, SW1X 7RB.

Where does the inspiration for the Mishca jewellery comes from?
Mishca's work has been inspired by the travels all over the world, having spent much time in other countries (South and Central America, North America, the Middle East and Europe), learning new cultures, and meeting new characters.
In the course of her travels she gathers the raw materials which her imagination alchemically transforms into startling forms: bold, audacious but always tasteful, sumptuous, sensuous and collectable. Recent trips to South America have left an indefinable yet palpable hallmark on her latest work which has the brightness, extravagance and exuberance of Guatemalan street parades and is imbued with the mystery and sinuousness of the Inca trail and of a culture that believes in the natural healing powers of precious stones.
Mishca is a great believer in the idea that one's experiences figure in one's work in all kinds of indefinable ways, making each collection distinct from what has gone before.

Do you have any pics of stars wearing the jewels?
Not yet, as Mishca will be officially launching its brand new collection at IJL 2009, so watch out!...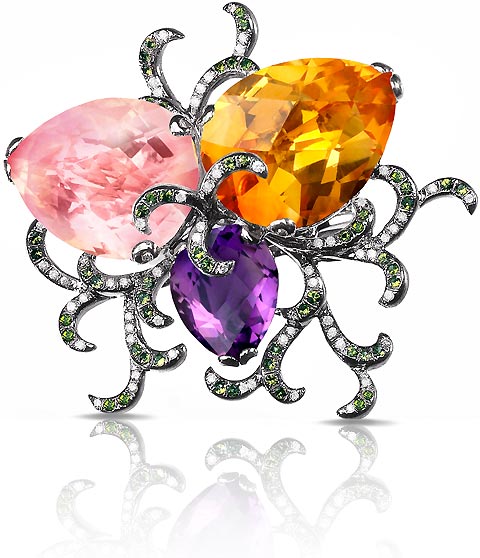 fig.: Ring from the 'Whispering' collection by Fei Liu, spring/summer 2009. The essence of the Whispering collection is that of boldness and colour. With entwining petal-like shapes, the three-stone ring is set within a different gold setting. The ring is coloured with a 16ct Citrine set in an 18K yellow gold, a 15ct Rose Quartz set in 18K rose gold, and also a 4.3ct Amethyst set in 18K black rhodium plated white gold (black gold) www.feiliu.co.uk.
Where does Fei Liu come from?
Fei Liu is originally from China.

Where is he working/living?
Fei is now UK based, in the Jewellery Quarter in Birmingham. His jewellery is stocked by retailers internationally including Harrods and Liberties in London.

How can the work in general be described with 1-3 adjectives?
Bold, Dramatic, and Striking.

Where has he learned to make jewellery?
Fei is trained at the School of Jewellery in Birmingham.
International Jewellery London
6 – 9 September 2009
www.jewellerylondon.com

By Caroline Zerrini. The lifestyle editor reports from Dubai; www.textappeal.us.


International designers show the latest jewellery trends in September in London

Stick your neck out for the latest trends and design-led creations. From 6th to 9th September 2009 International Jewellery London will be unveiling an impressive array of collections from acclaimed designers and brands worldwide

Dazzling Designers The show will be sparking with headline exhibitors.
Eminent designers making a presence include Hong Kong born Sarah Ho of London based SHO Fine Jewellery, the Central Saint Martins College of Art and Design graduate Rachel Galley, Sarah Jordan, the Chinese-UK Fei Liu (image right), Dower & Hall and newcomers like Lola Rose, Cherry & Coco and Codis Maya.
Fine Jewellery will be glittering with selections from the British designer Shaun Leane, a celebrity favourite, along with the Croatian in Milan living Veronika Cugura and the German label Spreckelsen and Carnevale.
A first for 2009 will also be the Hungary Pavilion featuring Varga Design and Splendor and 'KickStart', a new initiative designed to provide a commercial platform for fledgling designers.
Launched in cooperation with the London-based British Jeweller's Association, the bursary 'Kickstart' scheme is set to foster upcoming creative talent, whilst providing a valuable insight into some fresh new designers and companies. For retailers, Kick Start also offers the opportunity to source exciting new and cutting-edge designs.
Inspired Editors nominate jewellery designers
A top annual attraction at IJL is Bright Young Gems, which are nominated by leading editors and fashion icons – Hilary Alexander of The Daily Telegraph, Claudia Mahoney of Glamour and -- two newcomers for 09 -- Vivienne Becker of the FT How To Spend It and Jessica Andrews of Tatler. The nominated designers showcase their work and make their mark as the next big names in jewellery.
This year's show will also be premiering the Astley Clarke IJL Bright Young Gems Gold Award. This discretionary award for outstanding craftsmanship will give one new talented designer - who in Astley Clarke's opinion demonstrates the required innovative commercial flair - the opportunity for their jewellery to be sold on www.astleyclarke.com. The company will also provide the nominated BYG, if chosen, with in-house marketing and PR support.

2009 also sees the launch of the Editor's Choice feature at IJL. Top designers and brands in the industry have been invited to submit their pieces, from which a selection will be chosen by leading national journalist, Claire Adler. The selected jewellery will be prominently featured at the event, providing retailers and buyers with a valuable snapshot of the latest trends and groundbreaking exhibitors to watch out for in 2010.

Show-Stopping Speakers
This year's IJL seminar programme will feature cutting edge speakers covering all the current hot topics and issues. The programme will comprise of four streams, looking at trends, technical skills and product knowledge, E-tail and strategies for success in an economic downturn.
Highlight speakers include Fadi Shuman of top creative digital agency Pod1, journalist Claire Adler, Nathalie Kabiri of retailer Kabiri, Balagan's Rachel Parkin – who will tell all about new launch RetailRehab - and Joanna Hardy of Sotheby's.

London calling
IJL have launched a new 'London Jewellery Trail' so, whether you are travelling from across the UK, or internationally – or even if London is your home city – you can make sure you're not missing out on the wide variety of attractions that house some of the most fascinating and stunning jewellery collections in the world. Visit www.jewellerylondon.com/jeweltrail to see what the city has to offer for the jewellery industry, as a key destination. Many of the attractions are also free of charge.


Author Caroline Zerrini is living in Dubai. The lifestyle editor has extensive experience in creating and managing niche publications and cutting edge content. Caroline has spearheaded Text Appeal, an editorial consultancy service for editors and publishers.