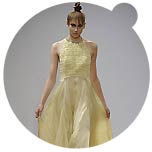 AFSHIN FEIZ
spring/summer 2009


Buddha's smile
"I possess the true Dharma eye, the marvelous mind of Nirvana, the true form of the formless, the subtle dharma gate that does not rest on words or letters but is a special transmission outside of the scriptures. This I entrust to Mahakasyapa." said Buddha smiling.
For the 3rd time at the London Fashion Week, Afshin Feiz has chosen this year "Sometimes you just have to let go" as the title for spring/summer 2009 inspired by Buddha's Silent Sermon where in front of his monks Buddha picked up a flower and stared at it for hours without saying a word. There was confusion amongst the monks who didn't know how to react. So no one did react until finally a smile spread across the face of one of them, a monk called Mahakasyapa, as the realization* set in. It is said that this was the origin of Zen.

*("Realization" means as much as that the monk recognized himself in the flower. We pratise "realization" every day when we think and recognize us not only as limited individual but as part of our society, nature, ... Check out the video below for an introduction into Zen.)
"This first recognition of beauty was one of the most significant events in the evolution of human consciousness. Sometimes you just have to let go of words and analysis and judgment, and just appreciate the beauty and love around us in the simplest of things such as a flower. Flowers are more ethereal and fleeting than the plants out of which they grow, and are the bridge between the physical forms and the formless." Afshin Feiz
Feiz created out of his fantasy very light, airy, feminine and flirtatious clothes in pinks and other light pastels in layers of chiffon, silk crepe and satins all contribute in expressing these beautiful 'flowers'. Dresses have two lengths in this collection, some fitted and above the knee and others more floaty and at mid-calf to ankle level. Butterfly-like tiny ruffles create graphic designs on the dresses, some of which are embroidered with silver chains.
"The silver chains, besides being ornamental, represent the societal chains that bind us every day into needing to analyze everything so much that we forget to just appreciate love and beauty for what they are…just that, love and beauty. They prevent us from appreciating the simplest of things like a flower or a dress just because they are beautiful. They make us need to compare and reason and judge. The collection culminates in a series of spectacular floor-length gowns, whose explosion of ruffles are finally free of chains, in all senses of the word. " Afshin Feiz
About Afshin Feiz www.afshinfeiz.com
Feiz grew up all over the world, mostly in England. Feiz attended fashion school Studio Berçot, studied French Literature at Reed College in Portland, Oregon in the United States before moving to Paris. He learnt at Thierry Mugler and John Galliano, made experiences at Christian Lacroix Haute Couture and three years at Nina Ricci.
The former student of French literature Afshin Feiz develops his collection from poetic texts such as the fall/winter 2008/9 collection "Cocoon" was inspired by the symbolism in 13th century Persian poet Rumi's poetry (fashionoffice.org/design/2008/afshinfeiz3-2008.htm). Feiz' themes don't run out of season: he elaborates his themes over years. The Persian poetry was already in his first winter 2005/6 collection, presented in New York, his inspiration for "The Butterfly Catcher" where he references to butterflies and candles; synonyms for lovers and their beloved. The designer pictured an Englishman in his tweeds (wool as the catcher) chasing butterflies (velvet - the butterfly) with a net, portraying the image of the lover continuing on his quest for love ... fashionoffice.org/design/2005/feiz3-2005.htm.
Video: Afshin Feiz spring/summer 2009, shown at On|Off, London, on 17 September 2008. On|Off organizes information especially for international press and buyers. Established in 2003 On|Off takes place during London Fashion Week at the Royal Academy of Arts.