Music, film, and men's wear
The German men's wear label Hartwich (founded by designer Doris Hartwich 20 years ago, belongs to the Brinkmann group) presents the new collection SS2012 with Stuttgart based US soul-rock musician and actor Trevor Jackson.
Several making of and behind the scene videos of the collaboration are published online; such as one with Trevor Jackson for the FW2010 season together with actor and model David Gant (appeared in the movies 'Brazil', 'Braveheart', 'Gandhi') and model Martin Steck in front of the camera, or the Hartwich making of SS2011 video with music by Trevor Jackson.
The SS2012 video gives insights into the shooting with Trevor Jackson and two models from a Facebook contest with introducing words by Doris Hartwich. The designer was inspired by the movie 'Into the Wild' (2007) directed by Sean Penn about a young man on his way to experience life from another angle. Doris Hartwich's impressions are reflected in the SS2012 campaign with sceneries like a river with rowboats, bridges, railroads and the used look treatments on leather and vintage metallic buttons.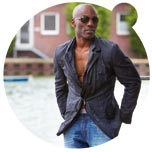 fig. above: Trevor Jackson in 'Technosakko' made from light metallic fabric, Hartwich SS2012.
fig. original: Facebook model contest winner Mitar Vasic from Stuttgart wears a multi-pocket leather jacket (left), Trevor Jackson (right) in waxed cotton jacket in fishermen's style, Hartwich SS2012.
Video 'Can You Blame Me?' (produced by Orfeo Brigande): Trevor Jackson speaks about his work as musician.
Source: Original article with image and video on http://www.fashionoffice.org/collections/2011/hartwich12-2011.htm.

more fashion.at/mobile>

News from
December 2011
November 2011
October 2011
September 2011
August 2011

subscribe
terms
imprint
(C) Sawetz, since 1996