Online voting selects best Austrian musicians
Eloui (aka Franziska Abgottspon; from Switzerland, living in Vienna) is one of the nominated artists at the Amadeus Austrian Music Awards 2012.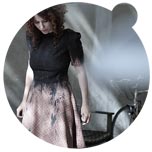 fig. original: Eloui. Photo: J.J. Kucek.
Eloui started her music career after she studied painting at the Academy of Fine Arts Vienna. Even if she has changed the instruments to develop art, her music is similar to an artwork made of various layers of colors which bring deepness into the 2-dimensionality of the canvas.
Eloui uses for her multi-layered song compositions vintage music samples from vinyl records and mixes them to the sound of original Viennese thunder, noises which come from cat 'Uhura', the accords of clarinet, flute, guitars, etc. The texts are sung by her in a smokey voice which she styles variously through the vo(ice)coder.
The Amadeus Austrian Music Awards were founded in 2000 and are organized by the IFPI Austria (an association of the Austrian Music Industry). The nominees are selected by a jury for several genre categories such as electronic/dance, alternative, hip hop/R'n'B, to name three and common categories like best album or song of the year. One special category is the 'FM4 Award' of the radio FM4 (belongs to the Austrian national service broadcaster ORF). In a second step, users are invited to vote for the best musicians online. The awards celebration is announced for 1st May 2012 in the Wiener Volkstheater in Vienna.
Eloui is nominated for the category 'FM4 Awards' at the Amadeus Austrian Music Awards 2012. Voting on fm4.orf.at/stories/1694762/.
Video: 'Owl On My Windowsill' by Eloui is one of eleven tracks from the singer/writer/composer/producer's first solo-album 'Chasing Atoms' (released on 3 November 2011, EMG).
Source: Original article with image and video on http://www.fashionoffice.org/culture/2012/amadeusawards2-2012.htm.

more fashion.at/mobile>

News from
January 2012
December 2011
November 2011
October 2011
September 2011
August 2011

subscribe
terms
imprint
(C) Sawetz, since 1996