Eco-party at MBFW New York
On 13 February 2012, US designer Betsey Johnson collaborated for the hair style and the backstage- catering with Aveda. The eco-friendly hair care label contributed re-useable water bottles and 'green' bio-catering to raise awareness for sustainable lifestyle in the fashion world.
Betsey Johnson (born 1942, started her design career in the 1960s) about the inspiration for the Fall/Winter 2012/13 collection: "I am consistently influenced by the over-the-top aesthetic of the eighties. For fall 2012, I'm reaching even further back to the 1960's when I got my start in fashion. The collection is full of super-short hemlines, embellished fabrics, rock-n-roll plaids and acid colored faux fur. The collection touches on all aspects of the unruly, revolutionary nature of the 1960's."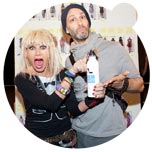 fig. original: Fashion designer Betsey Johnson and Aveda hair stylist Jon Reyman with the water bottle which carries the slogan 'Aveda Cat Walks For Water'.
fig. original: Jon Reyman at work. He explains the style for Betsey Johnson FW2011/12 as a reminiscence of Twiggy and continues: "We styled a look that mimics the long, straight silhouettes of the sixties to complement the clothing – it's young, innocent and sweet."
fig. original: Models in 1960s pop art inspired tops and short metallic-silver skirts on the catwalk of Betsey Johnson FW2012/13 at the Theatre/Lincoln Center on 13 February 2012 during Mercedes-Benz Fashion Week New York. Original: Designer Betsey Johnson on the catwalk making her signature posing - a split!
All photos on this page by Jon Gurinsky for Aveda; licensed under Creative Commons.
Video: Backstage views provided by Rocco (FashionNewsLive) who introduces into the world behind the catwalks in New York and gives insights into the area at Betsey Johnson where it looks as if a party is going on. He reports: "It's insane. Everyone is having a good time!"
Source: Original article with images and video on http://www.confashion.com/fw2012/aveda-betseyjohnson2-2012.htm.

more fashion.at/mobile>

News from
January 2012
December 2011
November 2011
October 2011
September 2011
August 2011

subscribe
terms
imprint
(C) Sawetz, since 1996