Bikini girls in action
In February 2012, the urban sportswear label Bench (founded in the late 1980s in Manchester, UK; today represented in more than 30 countries) presents the new styles for women inspired by boardsports like skateboarding and surfing. The bikinis for 'Action-Girls' (such as Bench entitles the trend collection) are shown in combination to boardshorts, hot pants, dresses with details like wrestler back, skirts made of jersey and comfortable capes, hoodies or softshell jackets.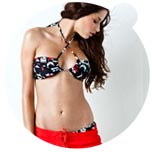 fig. original: Triangle bikini 'Lizzy' (geometrical patterns and letters in various colors on black; crossed straps top) and sportive shorts 'Tonatella' in red named 'bittersweet'; triangle bikini 'Elodie' in a wild mix made of pastel colored letters 'B E N C H' on white with lilac shorts; Bench SS2012. Photo by Schahriyar.com.
Source: Original article with images on http://www.fashionoffice.org/collections/2012/bench2-2012.htm.

more fashion.at/mobile>

News from
January 2012
December 2011
November 2011
October 2011
September 2011
August 2011

subscribe
terms
imprint
(C) Sawetz, since 1996