21 February 2012 - Short Message
#Health checks by men's #beauty label The Bluebeards Revenge and #Rugby World Cup legend Phil 'The Raging Bull' Vickery
Today, the British men's shaving products label 'The Bluebeards Revenge' announces that the brand's carton boxes carry inside advices for health checks with information about three uniquely male cancers (testicular, penile, prostate).
Market researcher GfK found out (survey, 824 UK adults aged 16 and over, March 2009) that 30% of men are not aware "...they can check themselves for lumps. This is in stark contrast to women, who are more likely to take their health in their own hands - only 7% of them say they don't check their breasts." bluebeards-revenge.co.uk
To raise more awareness for (self-)checks, The Bluebeards Revenge collaborates with Orchid (registered charity with focus on male-specific cancers) and Rugby World Cup legend Phil 'The Raging Bull' Vickery who appears inside the box as promoter of the campaign.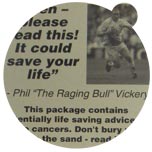 fig. original: Bluebeards Revenge packaging feature potentially life saving advice for men on the insides of the cartons.
News from
January 2012
December 2011
November 2011
October 2011
September 2011
August 2011

subscribe
terms
imprint
(C) Sawetz, since 1996