Men's weirdness and a flacon
...seen at the fragrance 'Dangerous Man' by the German underwear label Bruno Banani. The fragrance with new scent technology will be available from February 2012 on.
The 'Dangerous Man' is defined as someone who has many facettes - and who knows which one he prefers at the moment? Is he a devil or an angel or hell's angel?
The black flacon with burning monochromatic, 3-dimensional flame contains a fresh, very male scent. The chrome detail on the top is inspired by motorbikes and the vaporizer is protected by a piece that looks like a gas- or brake pedal. Technically is even the architecture of the scent: part of the composition are Cyclodextrines which are activated in moments of excitement and enhance the scent.
The label Bruno Banani is known for being 'schräg'. The German word 'schräg' stands for 'weird' and means also 'skewed' - possibly this is the reason why the signature design of Bruno Banani's flacons is the skewed form.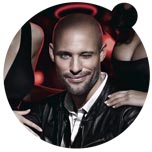 fig. original: Patrick Kuan, the brand ambassador of Bruno Banani, as 'Dangerous Man' in black leather biker jacket, white shirt, a red shiny aureole above his head, and two women behind him.
Source: Original article with image on http://www.beautyme.com/fragrance/2012/brunobanani1-2012.htm.

more fashion.at/mobile>

News from
December 2011
November 2011
October 2011
September 2011
August 2011

subscribe
terms
imprint
(C) Sawetz, since 1996