Snow flakes and bird feathers
...seen on caps from the autumn/winter 2012/13 collection by the Austrian label Capo. The Bregenzerwald based company celebrates in 2012 its 100th anniversary. For the 'Wälder Geist' (means as much as 'Forest Spirit') 2012/13 collection, Capo incorporates the impressions from nature and culture of the region into caps and hats from classical Trachten styles over fashion pieces to functional sports wear.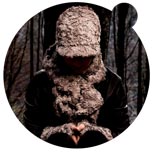 fig. original: Fake-feathers cap and shawl by Capo from the 'Wälder Geist' FW2012/13 collection. Matching arm- and leg-warmers made of the same material which imitates bird feathers complement the 'flight-outfit'. Photo: Capo.
fig. original: Knit caps from the collection 'Wälder Geist' with snow crystal motifs and geometrical patterns for men and women by Capo FW2012/13. The collection is inspired by the landscape of the Bregenzerwald and the spirit of the forest. Photo: Capo.

Note: The trailer of the nature documentary 'Der Bregenzerwald' by Cinedoku (2011) gives insights into the region.
Source: Original article with images on http://www.fashionoffice.org/collections/2012/capo1-2012.htm.

more fashion.at/mobile>

News from
December 2011
November 2011
October 2011
September 2011
August 2011

subscribe
terms
imprint
(C) Sawetz, since 1996